Grambling University Beacon Awards Gala
---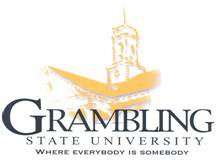 Office of the President
June 11, 2013
Dear Friend of Grambling State University
Grambling State University invites you to nominate outstanding individuals and organizations for the 2013 Beacon Awards. The Beacon Award, the University's expression of recognition and gratitude to those who lead and serve, will be bestowed on a select few individuals/organizations that have made a significant difference in the lives of others and their respective communities. We invite you to nominate deserving individuals for this honor. Attached are the nomination materials (awards selection process and instructions, criteria for awards, and nomination form).
The Beacon Awards will be presented during the Third Annual Grambling University Awards Gala on Friday, September 6, 2013. The Gala will take place in the Convention Hall Ballroom of the Monroe Civic Center at 7:00 p.m. We invite you to attend what promises to be another grand occasion for Grambling State University and the Monroe community.
The deadline for nominations is Friday, August 2, 2013, at the close of business. We look forward to receiving your nominations by that time.
Thank you, in advance, for your participation.
Sincerely,
Prank: G. Pogue, Ph.D.
President
Additional Information