FOR IMMEDIATE RELEASE
Rear Adm. Sylvia Trent-Adams, the U.S. deputy surgeon general, was excited to be asked to speak at Grambling State University's Nursing Leadership Summit. Unfortunately, due to an unforeseen change in her schedule, she will not be able to attend the Oct. 26-27 summit.
The summit has been postponed and will be rescheduled for a later date. The summit date will be based on her availability.
Refunds for ticket purchases, advertisements and sponsorships will be issued by the GSU Office of Advancement.
Please contact Vel Malone (malonev@gram.edu) in the GSU Office of Advancement or call (318) 274-2217 for refund information or to ask questions.
Office of Advancement
Grambling State University
403 Main Street
Grambling, LA 71245
The NCAA clarification does not include seasons prior to the 2012-2015 academic years.
Grambling State University will not have to vacate its 2011 football championship season, including the 2011 Southwestern Athletic Conference championship.
In a communication GSU received from the NCAA Monday, the national athletics governing body clarified that the NCAA sanctions previously announced include the 2012-13 through 2015-16 academic years and therefore the "violations that occurred during the 2011-12 academic year are not included." That means the 2011 football season record stands. The 2011 championship football team was 8-4 overall and beat Alabama A&M University 16-15 on Dec. 10, 2011, to win the SWAC title.
"This is a good day for Grambling State athletics," said GSU Athletics Director Paul Bryant. "We have been through a lot these last several years, and we've had some most unfortunate failings that we are working to continue to assess and correct. It's certainly good news that former head football coach Doug Williams and his G-men team will continue to be recognized for the good performances they had in fall 2011.
"Still, we acknowledge there were a number of things that should not have happened, and we have taken corrective action," he added. "We recently invited the NCAA to our campus to help educate and train our entire athletics administration team and coaches. We are confident that we will perform far more effectively in the future when it comes to NCAA guidelines and policies."
GSU President Rick Gallot expressed his appreciation to the NCAA for the review and clarification, and he thanked Bryant and his team for being dogged stewards of the school's academic and athletic obligations and responsibilities. "The NCAA has an important job to do holding all its institutions to high standards, and that includes our beloved institution with its storied athletics history," said Gallot. "We thank the NCAA for this clarification, which I know will bring relief to many of our alumni and fans. I assure everyone that we will come out of this situation better and stronger."
###
STATE NURSING BOARD APPROVES GSU NURSING PLAN
University leaders express joy, say more hard work remains
By WILL SUTTON / GSU Media Bureau
With a unanimous decision, the Louisiana State Board of Nursing approved Grambling State University's plans for a new undergraduate nursing program, pending a Louisiana Board of Regents meeting. If all goes well, the program would start in fall 2018.
"This is what we have worked hard for these last several months," said Meg Brown, associate dean of nursing in the university's College of Professional Studies. "The work to get to this stage has been the process required by the state of Louisiana." Now, she said, "the work of building the program starts."
Though the nursing board voted to support the new program, the board requires full approval from the Regents, and the Regents approved the program pending support from the nursing board. GSU must return to the Regents to get final approval, then the nursing board will allow Grambling State to move forward with the process. That is expected to be a formality.
Nursing board members said the plans for the planned stringent, academically-rigorous program is what GSU needs. As developed and proposed in the approved letter of intent, the school's new undergraduate nursing program would require specific preliminary general education and other courses and a strong academic history before a student could be admitted as a nursing major. The board, meeting at the Louisiana State University Lod Cook Alumni Center on the LSU campus, urged Brown and GSU President Rick Gallot to continue the good work to get the new program in place.
In essence, the board determined that GSU is well-positioned to move forward with plans for the program for the first full step of a multiple-step process. The board's action authorizes the university to move to another important step — identifying and hiring faculty and preparing, putting curriculum changes in place and establishing regulations and rules before marketing the program. After successfully implementing the next set of actions, the institution hopes to be positioned by spring 2018 to promote a new undergraduate program and recruit students for its first cohort of 30 students for the program to start in fall 2018.
"We're happy to see you moving forward," board president Laura Bonanno told Brown and GSU President Rick Gallot as they sat at a table in front of the board. She said the board was excited that Gallot had taken the position as president in August 2016 and that he made the undergraduate nursing program a priority.
Board member Tavell Kindall made a point of saying that he is a two-time GSU nursing program graduate. Kindall, a board-certified family nurse practitioner who earned a doctorate in nursing practice, works at the Greater Ouachita Coalition Providing AIDS Resources and Education (GOCARE) in West Monroe, Louisiana.
"This was an important next step," said Gallot. "Dr. Brown has done a fantastic job preparing for today, and because of her work we are well positioned to proceed to do what needs to be done to make this happen."
Ellen Smiley, GSU's provost and vice president for academic affairs, is looking forward to the next set of actions as she works with Brown and others to determine the characteristics and qualities needed as undergraduate nursing faculty and staff are identified. "Putting together a team with the right set of values and a commitment to make this program successful is going to be critical," she said. "We have high expectations for the program, and therefore we have high expectations for the people we choose to be a part of building this undergraduate foundation."
Gallot, whose wife, Christy Gallot, is a nurse with three nursing degrees from GSU's nursing program, said it means a lot to the university's first lady and fellow nursing alumni to have a strong nursing program and he's committed to making that happen.
"We didn't come this far to stumble and fall," he added. "We're going to work with Dr. Brown to make sure that her nursing vision leads not only to the implementation of this program but to developing scores of successful nurses practicing across northern Louisiana, this state and this nation."
###
Save
Save
Save
Save
Save
Save
Save
Save
Save
FULL/ORIGINAL ARTICLE HERE: http://www.prnewswire.com/news-releases/national-champion-grambling-state-installing-new-turf-in-historic-robinson-memorial-stadium-300462554.html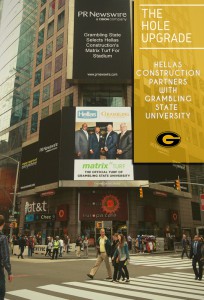 AUSTIN, Texas, — Hellas Construction is installing new turf for Eddie G. Robinson Memorial Stadium at Grambling State University. Excitement is growing about the new possibilities that artificial turf brings.
Paul "Tiger" Bryant was hired in January as director of athletics and one top priority was stadium renovations. Out of five turf companies that submitted proposals, Hellas was the only one to ask for a geotechnical report to look below the surface. They selected Hellas.
Hellas will be installing Matrix® Turf, organic Geo Plus® Infill, and Cushdrain® Pad. Hellas' Cushdrain Pad allows for proper drainage, absorbs stress and diffuses points of impact, adding safety for athletes with increased shock absorption, reducing concussions. The 100% organic Geo Plus® Infill is recyclable, made from select cork and coconut fibers, which resists compaction, increases traction, and will reduce field temperatures up to 40 degrees, compared to rubber infill.
"The game day experience will be something we've never had at Grambling. This is going to transform the way we are looked at and opens doors for opportunities to host more than just football games," said Bryant.
Head Coach Broderick Fobbs said, "We are champions and champions deserve to play on a field as such." They went 11-1 last year, winning the SWAC Championship and HBCU National Championship at the Air Force Reserve Celebration Bowl.
Rick Gallot, university president said, "As exciting as this is for our alumni and fans, it's really exciting for our football players and band members. Our World Famed Tiger Marching Band members are truly thrilled that they get to perform on a top tier turf."
The first home game is September 9 and an extra home game was added October 28, for the annual homecoming game.
About Hellas Construction, Inc. headquartered in Austin, TX. One of the largest sports construction contractors in the U.S., specializing in general construction of sports facilities with innovative artificial turf manufacturing and installation, base construction, field, track, and tennis planning, installation, and maintenance. Visit hellasconstruction.com.
About Grambling State University Grambling State University, located in Grambling Louisiana, is a historically black university founded in 1901. The University is accredited by 13 accrediting associations and holds accreditations in all programs required by Louisiana Board of Regents. The 590-acre campus offers 43 undergraduate and graduate degree programs. Grambling State University is a member of the University of Louisiana System.
Contact:
Katrina Suits
1-512-250-2910
GRAMBLING STATE GRADUATES 500
The spring commencement week includes several activities, including social work and ROTC celebrations
More than 500 students are expected to graduate during Grambling State University's spring 2017 commencement exercises at 10 a.m. May 12 in the Fredrick C. Hobdy Assembly Center. The university plans to award 318 bachelor's degrees, Continue reading →