Grambling State Alumni and Friends raise $114,000 to support Presidential Initiatives
March 9, 2018
Draped in black and gold, more than 100 GSU community members joined Jonesboro Mayor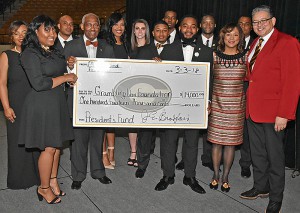 James Bradford for the second annual New Era of Excellence Reception Saturday, March 3, 2018 which raised more than $100,000 for Grambling State.
The reception, in its second year, was originally inspired by alumni who, ignited by President Rick Gallot's appointment, who wanted to create a new way to support GSU's growth.
"We're thankful for the many partners and individuals that support Grambling State," said President Gallot. "That support comes in many ways and when I see folks show up and participate in events like this, it reminds me of the privilege it is to serve our incredible students and community."
Since 2017 the New Era of Excellence effort, led by long-time alumni and GSU supporter James Bradford, has raised almost $260,000 earmarked to go directly toward University initiatives.
"We do this, because we know that we must," said Mayor Bradford. "If we don't support Grambling, who will?"
Hosted by a team of students, alumni, and University staff, the event drew donations and support from some of the largest businesses in North Louisiana including Jonesboro State Bank.
"We're excited about all of the support we continue to see for Grambling State University," said Marc Newman, Vice President of Advancement at GSU. "It's proof that people believe in the leadership and direction of the University."
For more information on the New Era of Excellence and more opportunities to donate the effort, please visit gram.edu/giving and select "New Era" in the giving portal.
First National, Coca-Cola, and Others Strategize to Invest in Grambling State
March 6, 2018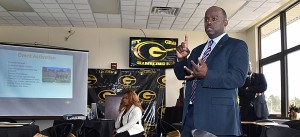 Business giants in North Louisiana's economy, including Coca-Cola and First National Bank, are actively strategizing ways to leverage their more than billion dollars in value to support  Grambling State University.
"We've been a sponsor for many years and have always gotten a lot out of working with Grambling State," said Brian Smith, a Senior Vice President at First National Bank. "First National Bank is excited to be a part of the team that supports Grambling's growing vision.
Smith and 13 other executives from companies that include Primary Health Services, Coca-Cola, and State Farm joined University leaders last Thursday to explore strategies and discuss the future of Grambling State.
"We know our President's big vision is going to require big collaboration," said Marc Newman, Vice President of Advancement at GSU. "That means we have to connect with partners who can help turn that vision into a sustainable reality."
"We have a marketable product – in 2017 over 200,000 guest and fans visited campus. They are consumers who will support our local business partners. Grambling State University is truly a worthwhile investment."
Newman and business leaders met as a part of GSU's second annual Lunch and Learn which, in the past two years, has helped coral support for scholarships, campus improvements, and major athletics and facility projects, including recent football stadium upgrades.
This year's lunch and learn connected 14 partners representing 11 companies whose business range from apparel sales and insurance to healthcare and hospitality. This year's attending companies included:
Ruston Convention Visitors Bureau
Primary Health Services Center (PHSC)
Collegiate Shop
First National Bank
Coca-Cola
State Farm
Reali-Tees
I Love my HBCU
Fairfield Inn
Princeton Place Skilled Nursing & Rehab
Tommy's Tees
"The economic impact of Grambling is immense and growing. It's showing in the number of companies that show up and support us," said Newman.
For more information on sponsoring and supporting Grambling State University, please contact advancementservices@gram.edu.
CNN Analyst & White House Correspondent to Keynote GSU's Black History Convocation
By GSU Media Bureau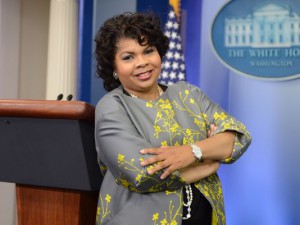 GRAMBLING, LA — February 26, 2018 – White House Correspondent, April Ryan, who is well known for her coverage of presidential administrations and African-American issues will deliver the keynote address at the 2018 Grambling State University Black History Convocation on February 27, 2018.
The only black female reporter covering urban issues in the White House and one of only three African Americans to serve on the board of the White House Correspondents Association, Ryan is a veteran journalist who began her White House work during the Clinton era. Since then, she's grown to become the Washington Bureau Chief for the American Urban Radio Networks and through her "Fabric of America" news blog, CNN appearances and radio content, she reaches millions of Americans weekly.
"For more than one hundred years, Grambling State's led Louisiana in engaging and attracting those who champion the African-American vantage point in media," said Rick Gallot, GSU's 10th President. "We're honored to host Mrs. Ryan to share her unique perspective with our students."
Ryan joins a long list of notable African-Americans featured at Grambling State University events, including Roland Martin, Johnny C. Taylor, and Dr. Frederick D. Haynes, III.
GSU's Black History Convocation is free and open to the campus, surrounding communities, and media.
Grambling State University Black History Convocation, 2018
Tuesday, February 27, 2018 | 11:00 a.m.
T.H. Harris Auditorium, Grambling State University
403 Main Street, Grambling, LA 71245
 For media credentials or more information, please contact mediarelations@gram.edu.
###
About Grambling State University
Grambling State University, located in Grambling Louisiana, is a historically black university founded in 1901. The University has been accredited by 13 accrediting associations and holds accreditations in all programs required by the Louisiana Board of Regents. The 590-acre campus offers 43 undergraduate and graduate degree programs. Grambling State University is a member of the University of Louisiana System. For more information visit gram.edu.
We will be CLOSED for normal business and classes TOMORROW (Tuesday, Jan 16) in anticipation of the wintry precipitation forecast for overnight and into Wednesday.
The convenience store in Tiger Express will open today (Monday) from 5:30 pm – 7:30 pm for students to stock up on supplies.   In the event of a power outage, they are prepared to provide sack lunches (sandwich, chips, cookies, fruit and soda).
On TOMORROW (Tuesday, Jan 16), McCall Dining Hall Hours will be according to the Brunch Schedule:  Brunch (10:30 am – 1:00 pm) and Dinner (4:30 pm – 6:00 pm)
We are monitoring National Weather Service reports for Wednesday and the rest of the week.
GSU advises students, faculty and staff to be careful and cautious.
Spring 2018 registration continues online via Banner.
01/11/2017
FOR IMMEDIATE RELEASE
GSU FACULTY ANNUAL ART EXHIBITION
Four Grambling State faculty are sharing art work during a special show at the university's Dunbar Gallery through late January
Grambling State University's Dunbar Gallery is hosting the Annual Faculty Art Exhibition, SeeSaw, January 8 – 29. Artists exhibiting are Donna McGee, Rodrecas (Drék) Davis, Larry D. Holston, and Terence C. Williams II. The works in the show encompass a range from satirical discourse on social topics to introspective contemplation as an antidote to stressors in contemporary culture.
McGee, professor of art, holds a bachelor of science in art education from Mississippi State University, a masters in counseling from Mississippi State University and a master of fine arts in studio, painting and drawing from Louisiana Tech University. Her work is rooted in the belief that man is an integral part of nature. She believes that through communion with the natural world, we gain a greater understanding of ourselves.
"Drék" (pronounced Dreek) Davis, assistant professor of art, is a native of Monroe, Georgia, and holds a master of fine arts degree from the University of Georgia. Davis' works address underlying meanings associated with words such as "Black" and "Magic" and the irony of such words when considered in the context of black culture.
Holston, assistant professor of art, received his bachelor of arts degree in art education from Grambling State University and a master of arts in art from Northwestern Louisiana University. His work for this is reflective of people and the way they express their identity through their physical appearance.
Williams holds a bachelor of fine arts degree in sequential art from Savannah College of Art and Design. His work is a visual commentary on various social topics and current events. He brings the art of the graphic novel into the gallery setting to capture attention and generate discussion in a different format.
The public is invited to meet the artists at a closing reception to be held in the gallery on January 25 from 4:30 p.m.-6 p.m. Gallery hours are from 8 a.m.-4:30 p.m. Monday through Thursday, and 8:30 a.m.-12 noon on Friday. The gallery is closed on university holidays. Dunbar Gallery is located in Dunbar Fine Arts Annex on Hutchinson Street in Grambling. Accommodations are available for large groups and special needs persons. For more information, please call 318-274-2274 or 318-274- 3462.
####
In higher education, every university's history includes the gift of a few iconic leaders whose work and service grow the very fabric and trajectory of the institution.
Dr. Joseph B. Johnson, the third president of Grambling State University, was uncontestably one of our legacy's greatest gifts. My GSU president and fellow member of Kappa Alpha Psi's Gamma Psi chapter, Dr. Johnson will forever be remembered as a bold and progressive leader.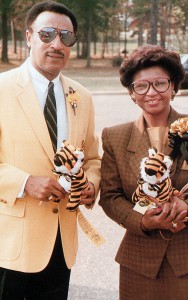 Never afraid to speak his mind or challenge the status quo, he helped elevate our University to one of America's most influential and recognized African American institutions.
His voice and contributions created impact that will be felt for generations to come. From his conversations with students under our "tree of knowledge" to his Whitehouse visits with various presidents, his presence helped create the change our university, nation, and world needed to see.
He and his administration's tireless work on legacy-changing efforts included preparing the Consent Decree, which brought millions of dollars to GSU; establishing key academic programs including our School of Nursing, MBA program, and top-ranked computer science programs; and establishing GSU's Earl Lester Cole Honors College and our doctoral program in developmental education.
Our first alumni president and the first Kappa president of GSU, Dr. Johnson will be remembered for the way he used his Grambling love to grow our University's place in history.
He invested in our community, campus, and a long list of GSU alumni who have followed in his footsteps in shaping our world and education.
Grambling State University will be forever indebted to President Johnson. He was a fighter, a warrior and one of the voices who made sure our institution never settled for ordinary. It was an honor to call him President, mentor, and advisor.
I know I speak for all in our GSU family when I say he will always be remembered and deeply missed. Christy and I send our prayers and condolences to the Johnson family during this difficult time.
GSU's FALL 2017 COMMENCEMENT ACTIVITIES
More than 350 students are expected to graduate during the Grambling State University (GSU) fall 2017 commencement exercises at 10 a.m. Central, 11 a. m. Eastern, on December 15, 2017, in the Fredrick C. Hobdy Assembly Center in Grambling. The university will award 268 bachelor's degrees, 95 master's degrees and 7 doctorates.
GSU's commencement speaker will be Dr. Frederick Douglass Haynes, III, Senior Pastor at Friendship-West Church in Dallas, TX. Dr. Haynes is a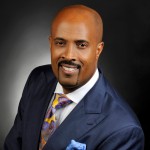 social activist, orator, and educator. He is committed to advocating for economic justice for under-served communities and to empowering the disenfranchised. Dr. Haynes has received numerous awards and honors for his ministry and activism. Ebony Magazine named him to its "Power 100" list of most influential African Americans in 2012. He has been inducted into the National Black College Alumni Hall of Fame. He was honored to give remarks at the memorial service of one of the most respected world leaders of the 20th and 21st centuries, South African President Nelson Mandela.
A special, off-site commencement program is scheduled for 11 a.m. Eastern at the AT&T Metro Center in Atlanta. Thanks to the generous support of AT&T, several GSU football program student-athletes will graduate in a special ceremony in a corporate multipurpose room in advance of Saturday's Celebration Bowl football game.
OTHER GRADUATION ACTIVITY
ARMY ROTC COMMISSIONING CEREMONY
The Grambling State University Army ROTC will host a commissioning ceremony on Thursday, Dec. 14, at 10 a.m. The keynote address will be given by Colonel (Retired) Jeremy M. Martin, Director of Public Affairs and Outreach at Bell Helicopter, National Capital Region, and Former Chief of Staff in the Office of the Assistant to the Secretary of Defense for Public Affairs. Refreshments and fellowship will follow in the Black and Gold Room. Three cadets will be commissioned. The Army ROTC will conduct an oath of office during graduation.
CEREMONY PARTICIPANTS
Commencement rehearsal will be held at 9 a.m. Wednesday, Dec. 13, at the Fredrick C. Hobdy Assembly Center. On Dec. 15, graduates should arrive at the Assembly Center at 8 a.m., while faculty, staff, and students participating in the ceremony will assemble at 8:30 a.m.
PARKING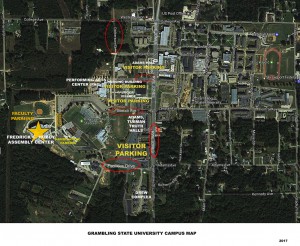 Visitors attending the commencement at the Assembly Center are asked to park in the designated locations. There will be a drop-off and pick-up area in front of the Assembly Center for those needing additional assistance, but this is not a parking area. Graduates are asked to park in the parking spaces near the Eddie G. Robinson Memorial Stadium sign closest to the Conrad Hutchinson Performing Arts Center to allow family and friends to park closest to the Assembly Center. Parking spaces will be monitored and proper credentials must be displayed or vehicle will be towed. No curb parking — violators will be towed.
ARRIVAL and SEATING
The doors to the Assembly Center will open at 7 a.m. No visitors will be allowed to enter the Assembly Center before 7 a.m. All audience members should arrange for their parties to be seated at the same time. SAVING SEATS FOR OTHERS WILL NOT BE ALLOWED. Ushers will be monitoring the rows to ensure that all seats are filled. While waiting for commencement to begin, please be respectful and courteous to others attending the ceremony, mindful of any instructions made by Grambling employees working at commencement, and listen carefully to any pre-commencement announcements.
CONGRATULATIONS BANNERS/FLAGS/AIR HORNS
Everyone attending the commencement is asked to be respectful of others who want to hear the names of their graduate called, to see their graduates in the procession and receive their degrees. To ensure that this formal event is as enjoyable for everyone as possible, NO CONGRATULATORY BANNERS, FLAGS OR AIR HORNS WILL BE ALLOWED INSIDE THE ASSEMBLY CENTER.
PHOTOGRAPHY AND VIDEO
Only university-authorized campus and external media will be allowed on the floor of the Assembly Center to shoot and film the event. Only media with university-recognized media credentials will be allowed on the center's floor, and only authorized campus and external media representatives with university-issued media passes will be permitted on the floor. All others will be asked to clear the area.
LIVE BROADCAST
To watch a live broadcast of commencement, visit www.gram.edu and click on the "Watch 2017 Fall Commencement Live" link on the right side of the webpage in the "Spotlight" section. The live broadcast will be available 10 a.m. on Dec. 15. In addition, KGRM-FM will broadcast the entire commencement live. Tune in at 91.5 FM starting at 10 a.m. The station will broadcast until diplomas are awarded. Visit www.gram.edu and click on the link at the right of the homepage to listen to KGRM live.
Watch Online: https://www.youtube.com/watch?v=-CYB7MFnheE
EXTERNAL MEDIA COVERAGE
External media are asked to contact the Office of University Communications at mediarelations@gram.edu or 318-274-2203 for information regarding admittance to commencement and to make interview requests. All external media must park in a designated parking area in the loading dock area at the back of the Hobdy Assembly Center, and are required to show media credentials. External media are asked to enter at the back of the building.
FOR IMMEDIATE RELEASE
Rear Adm. Sylvia Trent-Adams, the U.S. deputy surgeon general, was excited to be asked to speak at Grambling State University's Nursing Leadership Summit. Unfortunately, due to an unforeseen change in her schedule, she will not be able to attend the Oct. 26-27 summit.
The summit has been postponed and will be rescheduled for a later date. The summit date will be based on her availability.
Refunds for ticket purchases, advertisements and sponsorships will be issued by the GSU Office of Advancement.
Please contact Vel Malone (malonev@gram.edu) in the GSU Office of Advancement or call (318) 274-2217 for refund information or to ask questions.
Office of Advancement
Grambling State University
403 Main Street
Grambling, LA 71245
The NCAA clarification does not include seasons prior to the 2012-2015 academic years.
Grambling State University will not have to vacate its 2011 football championship season, including the 2011 Southwestern Athletic Conference championship.
In a communication GSU received from the NCAA Monday, the national athletics governing body clarified that the NCAA sanctions previously announced include the 2012-13 through 2015-16 academic years and therefore the "violations that occurred during the 2011-12 academic year are not included." That means the 2011 football season record stands. The 2011 championship football team was 8-4 overall and beat Alabama A&M University 16-15 on Dec. 10, 2011, to win the SWAC title.
"This is a good day for Grambling State athletics," said GSU Athletics Director Paul Bryant. "We have been through a lot these last several years, and we've had some most unfortunate failings that we are working to continue to assess and correct. It's certainly good news that former head football coach Doug Williams and his G-men team will continue to be recognized for the good performances they had in fall 2011.
"Still, we acknowledge there were a number of things that should not have happened, and we have taken corrective action," he added. "We recently invited the NCAA to our campus to help educate and train our entire athletics administration team and coaches. We are confident that we will perform far more effectively in the future when it comes to NCAA guidelines and policies."
GSU President Rick Gallot expressed his appreciation to the NCAA for the review and clarification, and he thanked Bryant and his team for being dogged stewards of the school's academic and athletic obligations and responsibilities. "The NCAA has an important job to do holding all its institutions to high standards, and that includes our beloved institution with its storied athletics history," said Gallot. "We thank the NCAA for this clarification, which I know will bring relief to many of our alumni and fans. I assure everyone that we will come out of this situation better and stronger."
###