By Elliot Jones
Grambling State University has closed out its 2014 United Way Campaign in style by donating over $12,000. GSU was able to raise money by having over 10 departments with a 100 percent participation rate. Grambling State University has a long history of being a community leader in giving. GSU and United Way are partnering to increase local graduation rates, providing education towards financial literacy and preventive health behaviors that will align with Grambling's community service interests.
"On behalf of the community, I would to thank GSU students, faculty and staff for their outstanding leadership," said Michelle Tolar, United Way Area Director of Lincoln Parish. "This will provide life-changing services to people right here where we work and live."
GSU Interim President Dr. Cynthia Warrick thanked all of the Grambling family for donating to this year's United Way Campaign. "We have signed a Memorandum of Understanding with the United Way to align our service learning program with the programs they support in the community. Don't be surprised when you see Grambling students, faculty, and staff, reading to 3rd grade classes, and volunteering with the Boy Scouts, Girl Scouts, and the Boys and Girls club. With the business expertise in our faculty and students, we will provide financial education to students in the area so they can prepare for a brighter financial future, especially when it comes to paying for their college education," Warrick stated.
Grambling State University Theatre to present Crimes of the Heart, by Beth Henley. Performances are February 3-6, 2015 at the Floyd L. Sandle Theatre, located in the Conrad Hutchinson Performing Arts Center.
The Department of Visual and Performing Arts at Grambling State University is pleased to announce its third production of the 2014-2015 season, Crimes of the Heart by Beth Henley. Three young sisters – Babe, Lenny and Meg – reunite in their Mississippi hometown to await news of their hospitalized grandfather. With emotional baggage from the past and immediate troubles with the law, each of the dysfunctional MaGrath sisters is forced to face the consequences of her crimes of the heart. These unfortunate events unfold in this witty dramatic comedy, sure to please any audience member.
Directed by Paul Bolin, the production staff includes Lucita Foster as production stage manager and sound designer, Joseph Osborne as technical director, Karlie Robinson as set designer, Je'Lasa Williams as lighting designer, Larrese Wormley as prop master, and Teshia Lincoln as costume designer.
The cast includes: Rachel Chinn as Lenny MaGrath; Mionne Featherstone as Meg MaGrath; Ashia Allen as Babe MaGrath; Melanie Williams as Chick Boyle; Brenton Douglas as Barnette Lloyd; and Jaren Stringer as Doc Porter.
Performances dates are February 3-6, 2015 with a Pay-What-You-Can preview on Monday, February 2. At Friday night's performance, audience members are encouraged to dress in their best 80's outfit for a chance to win a prize! The show begins at 7pm and tickets are $3 for students and $5 for general. Tickets will go on sale starting Tuesday January 27. Box office will be open from the hours of 1pm-4:30pm Tuesday/Thursday and thirty minutes before performance time. For more information, please call Mrs. Modest at 274-2201.
Flyer: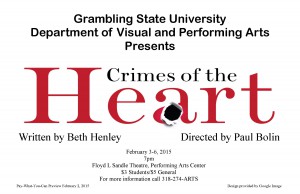 ###
GSU THEATRE CONTACT:
Mary Fran Crook
(318) 274-2892
crookm@gram.edu
Media Contact:
Office of Communications
318-274-2866
mediarelations@gram.edu