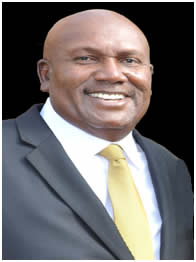 GRAMBLING, LA – Grambling State University alumnus James "Shack" Harris is returning to his high school alma mater, Carroll High School in Monroe, where the high school's athletic complex will be named in his honor as part of the school's Homecoming celebration on Oct. 2.
"It's a great honor because that's where I got my start. Carroll High School prepared me for college and the rest of my life. It's really a great honor because so many others could have been chosen. I am excited to be back at Homecoming to watch the Bulldogs win!" Harris said.
Carroll High School Football Coach Jackie Hamilton had the idea to name the athletic complex after Harris. He cannot imagine a better role model for the students at Carroll High School than Harris, who has always taken an active role in the high school. "He was one of those guys that always made the school proud of him," said Hamilton. "He was a great quarterback here, then he went off to Grambling. I was younger, but I always looked up to him since he was such a class act."
Harris played as a quarterback for legendary Coach Eddie Robinson at Grambling, where he set a new passing yardage record with 4,705 yards. Harris was drafted to the Buffalo Bills in 1969, where he became the first Black quarterback to start an entire season as a professional football player. During his 12-year career, he also played for the Los Angeles Rams and San Diego Chargers. Harris retired from his position as a senior personnel executive with the Detroit Lions in February.
"It's great for kids here to understand that you can be anything that you want to be. Harris was a fine example of that. He didn't let circumstances dictate his outcome. He always carried himself in a manner that you can look up to," Hamilton said.
The official process to rename the athletic complex after Harris has taken over a year. It involved approval by the Monroe City School Board and help from state Representative Katrina Jackson, since naming a public building after a living person is generally prohibited.
Harris will be honored at a field presentation and unveiling ceremony at 6:25 p.m. at Carroll High School. Members of the public are invited to attend the ceremony and then watch the Bulldogs take on General Trass High School at 7 p.m. A press conference will be held at 6 p.m.
###
Media Contact:
Office of Communications
318-274-2866
mediarelations@gram.edu