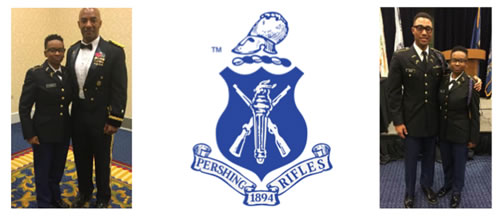 BATON ROUGE, LA — Grambling State University Army ROTC Cadet Courtney Heard has been selected to serve as the Deputy Regimental Commander for the 17th Regional area of the National Society of Pershing Rifles. Heard's range of responsibility will include ten Pershing Rifles companies at universities across the southern Louisiana, Alabama, Tennessee, Florida and Georgia; she will continue to serve as the Commander of her home unit, Company G-17.
Heard was selected for her role and promoted to the rank of Pershing Rifles Lieutenant Colonel on March 12, 2016, at the organization's National Convention and Drill Competition in Washington D.C. She traveled to the convention along with over 400 ROTC cadets and midshipmen representing over 55 colleges and universities across the Nation.
The presentation took place at the National Convention, which included a Formal Dinner featuring several dignitaries. Deputy Commanding General of U.S. Army Cadet Command, Brigadier General Sean Gainey, and former U.S. Secretary of State and Chairman of the Joint Chiefs, Colin Powell, who are alumni of the Pershing Rifles organization, where in attendance. This will be the first time since 2012 that a Grambling student has been selected to serve as a member of senior leadership of the National organization.