Gallot awards $2,000 to three international students for best student recruitment video
By WILL SUTTON
GSU Media Bureau
Three Grambling State University international students put their ideas together and came up with a winning video concept to promote the school they love.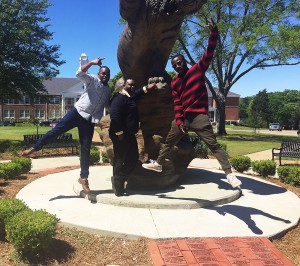 Collin Jno-Finn, Al Burnette and Awoyemi "Dayo" Ademola heard about GSU President Rick Gallot's pitch that students come up with some student-focused concepts when the president made the offer in August and they went to work. The contest, open to all undergraduate and graduate students at the university, ran from late summer until late February and the winners were announced Thursday (March 30). The students will share a $2,000 grand prize scholarship.
"My team and I were elated that we won …," said Jno-Finn, a graduate student from the Caribbean. "We are eternally grateful to our cast and GSU for this opportunity.  It will be remembered and cherished for a lifetime."
"These young men put a lot of effort and time into this project, and it shows," said Gallot, who announced the competition during his first Facebook Live in August. "I got the idea when I was talking with some of our student leaders, and I knew they were right: we needed to give our students a chance to come up with some fresh ideas.
"Well, it worked," he added. "I really like what they did."
The students' video concepts and the video will be used by the university communications office and GSU TV Center to come up with a video that will be used to market and promote Grambling State.
Jno-Finn, a doctorate education student from St. John's, Antigua; Burnett, a senior computer information science and marketing major from Dominica and Ademola, a senior accounting major from Nigeria, came together to produce a video for the contest after Jno-Finn decided to enter and asked Burnette and Ademola to be his partners.
"As an undergraduate I majored in mass communication," said Jno-Finn. "I am passionate about media and publicity so I decided to enter this competition to help my beloved institution.  Our team thought this was a great avenue to show our diversity, our strengths and at the same time our creative gifts.  Grambling has so many gifted students and this was a powerful avenue to give us the students an opportunity to express our capabilities."
###
Media Contact:
Office of Communications
318-274-2866
mediarelations@gram.edu