"Mini World Famed" musicians provide free concert, marching performances on Grambling State campus
By REAGAN HIGGINS/GSU Media Bureau
Grambling State University's summer high school band camp ends this weekend with two performances as the students share the musical skills they learned this week with band directors and members of the World Famed Tiger Marching Band. Both performances are free.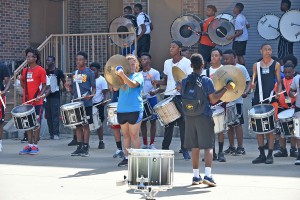 About 170 middle school and high school students from northern Louisiana, southern Louisiana, Houston, Dallas, Chicago, New York City, San Francisco and elsewhere have spent a week learning music fundamentals or enhancing their musical skills and music technique with Larry Pannell, GSU's director of bands, and a team of band directors, and experienced band members. Students have engaged in three distinctive styles of music — marching band, jazz band and concert band.
"It's been a camp that's been just full of excitement," said Larry Pannell, GSU director of bands. "The kids have been very energetic,…"
The first of two performances is today (July 14) with a concert at 7 p.m. in the Conrad Hutchison Performing Arts Center near the Robinson Stadium Support building and the Eddie G. Robinson Memorial Stadium. The first half of the performance will feature the high school band camp beginner, intermediate, and jazz band units.
The second closing program is a marching band performance Saturday (July 15) at 10 a.m. in the Hutchinson PAC parking lot, near the football practice field and the intramural basketball courts. The high school marching band event will feature drum majors, the drumline, dance units and flag and ensemble twirling.
"The crowd should come out and see the Grambling style that has been taught to these campers," added Pannell. "We know the style is heading back to San Francisco. We know that the style is heading back to New York City and Chicago.
"That is what we want the crowd to see, that you are coming to see the World Famed (style) being taught and carried back all over the world."
###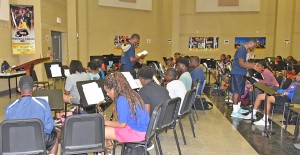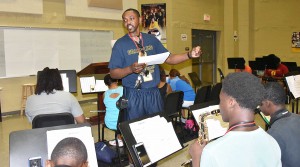 "Bring It Home" initiative raises $321K, including Coca-Cola United of Monroe's $260K investment
By STEPHANIE LINDSEY/GSU Media Bureau
Grambling State University and Coca-Cola go way back. Over 90 years to be exact, and the partnership is becoming stronger.
The Monroe Coca-Cola Bottling Company, a Division of UNITED Coca-Cola Bottling Company, has invested in GSU with a whopping $260,000 contribution as a part of a major GSU $1 million "Bring It Home" fundraising campaign announced Friday morning.
During an announcement event in the GSU Atrium on the second floor of the Favrot Student Union Building, GSU President Rick Gallot, Institutional Advancement Vice President Marc Newman and Grambling University Foundation Chair David Aubrey announced the ambitious effort that, in part, is designed to help make up for the president's decision to avoid an additional fee on students to help cover college costs. "Our students cannot afford to continue to pay fees when it's hard enough for them to find the money to get into, and stay in, school," said Gallot. "Our alumni said loud and clear that they supported that decision, and they said they would help. Today we're saying how they can help."
Newman said the 15-week fundraising campaign is a short time to raise such an ambitious amount, but he believes it can be done. "We have commitments from a host of Grambling State family and friend associations and organizations, and we know they love this school so much that they will come through," he said. "Today we put a really big dent in the goal with all of the individual and corporate support, but there's a lot more to be raised. We'll get it done."
The university announced a one-day total of $321,000, including a major contribution from the Monroe-based Coke company; a $20,000 donation from the Hampton Inn Ruston; $15,000 from AT&T; $10,000 from Primary Health Services in Grambling; $10,000 from Gallot and First Lady Christy Gallot; more than $5,000 raised by GSU Student Government Association President Adarian Williams with a match by Integrated Management Services (IMS) of Jackson, Mississippi; $1,000 from University of Louisiana System Board Chair Alejandro "Al" Perkins, and $1,000 from Wilbert Ellis, the legendary former GSU baseball coach. Newman said the campaign will include a score of fundraising captains and a GSU International Day of Giving, an online, social media-focused day when alumni and supporters will come together across the nation to support the school on Sept. 28.
According to Monroe Coke Sales Center Manager Keith Biedenharn, who has been with Coke for 30 years, the the Monroe Coke money is a "local and corporate contribution to the growth of Grambling State University."
"This check represents our commitment to partnership with Grambling for the future," he said. "We have a long history."
The history between the northern Louisiana HBCU and the beverage behemoth is something that Biedenharn family knows well. The Monroe Bottling Company was started by the Biedenharns in 1912, and they owned and operated it until it was bought by UNITED Coca-Cola. It was sometime between its founding and 1920 that the Monroe company partnered with what became Grambling State. The company employs 180 people, has close to 4,000 customers and serves 395,00 people across 14 parishes west to Lincoln Parish, east to Madison Parish and south to LaSalle Parish.
A thriving partnership with a Coke is something that GSU Vice President for Institutional Advancement Marc Newman calls integral to the growth of the university.
"The negotiations for this investment have been going on through a couple administrations and it was President Rick Gallot who was able to bring some closure," said Newman. "The timing was awesome because we had some needs and some plans around renovations in the stadium. This is an investment in the new scoreboard, in the stadium turf, and investment in scholarships."
Coke knows that it's invest came at an exciting time for the University.
Biedenharn said Coke is excited to be a part of all of the GSU progress, and the company wanted to support the football stadium upgrade while providing support for student scholarships and other school needs. "From a business standpoint we want to be able to sell the soft drinks on campus, and we knew that this year the Grambling foundation was looking for some help with the football program."
Newman said the relationship is strong and a number of alumni work for Coca-Cola and GSU students have worked at the company as interns. "This is exposure for them and for us," he said. "This is an example of what a relationship looks like.u
Newman called Grambling State "a worthwhile commodity," and said "we want to make sure that people understand that in the HBCU world there is no brand better."
"So if someone is looking to make that investment, this is the place you want to be."
Will Sutton contributed to this story.
###