Facilities director sees tailgating improvements, cabins and a pavilion in the future
By SARAH-RENEE GARNER/GSU Media Bureau
Lots of trees are coming down on campus, and it is intentional.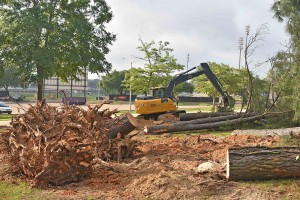 As a part of a campus-wide beautification effort, Grambling State University has had scores of trees cut down to better manage the woodlands, to make campus safer and to make it more community oriented, said Frederick Carr, the director of facilities.
As students return for fall classes, they may notice fewer trees in some key places. Trees have been thinned a mile or so down the road from the Subway, the areas by the catfish and fish ponds, the area behind the Conrad Hutchinson Performing Arts Center, the trees by the Judicial Affairs office and a few miles away on GSU's West Campus.
Grambling State University has hired Halley Timber Company, Inc., of Farmerville, Louisiana. Halley employees are trained to help customers with timber cutting, timber thinning, land management and timber harvesting. GSU hired them to harvest their timber, and to then help them sell the timber for profit.
"We did this mainly because it needed to be done," said Carr, who added that some of the trees were dead or unhealthy trees and others just needed space. "It gets rid of the wild growth, and now the trees will be able to grow better."
He said the clearing "will make managing the land easier, which will make keeping up with the campus a lot less expensive."
Meanwhile, Carr likes that the university is seeing some financial gain from the project. "When you cut trees down and start to sell them commercially, they are measured by the ton," said Carr. "The more tons that you have, and the better the quality of the tree is, the more money that you will receive for the ton." He said Grambling State has harvested more than 200 tons of timber since June.
Once more work is done in the area of the facilities building and along the road leading to the fish ponds not far from RWE Jones, there will be a large space for fans to tailgate when they visit during football season. Carr has an idea that would entice some fans to come early or stay longer once games have ended.
"What would really be great is if we had a pavilion with restroom facilities, water, and we could even put cabins out here that people can come rent over the weekend during home games," he said. "We can also use the cabins for family reunions or camps that people need space for the off season."
Linwood Banks, 21, a junior business management major from Alexandria, Louisiana, knew very little about the project, but was happy to hear about how it's coming along. Banks, a defensive lineman for GSU's football team said it is good for the team and all students.
"I know that there are a lot of people that want to see us play," said Banks. "This allows more people to be able to come and watch us, which brings in more money, which makes our school better. It's a win-win situation."
###
Gallot drives transfer student from dorm to class, visits several classrooms on first day of fall semester classes
By WILL SUTTON, GSU Media Bureau
It was the first day of class for Jasmine Harris, and it was an extra special day.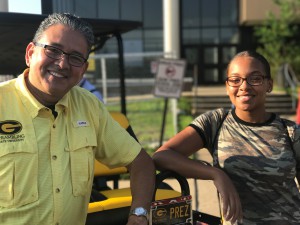 For the first time in her life, Harris, 18, rode in a golf cart – and it was the Grambling State University presidential golf cart. It wasn't what she expected on her first full day of class at Grambling State University, but she was pleasantly surprised that she was chosen by President Rick Gallot as he fulfilled a promise to take a lucky student to their first class of the day on the first day of class for the fall semester.
"My experience with the president was delightful," Harris said in an interview after a full day of classes. "I enjoyed being able to wave at students and have them associate me with him, to be able to be in the atmosphere of family. He treated me like I was his own."
Gallot, entering his second year as GSU's 10th president, told a reporter a few weeks ago that his school was still accepting student applications from high school graduates and transfer students, and he said, "Who knows, I may even give you a ride to class on your first day."
The president was up early and working in his office on the first floor of Long-Jones Hall until it was time to go outside, get in his cart and drive to pick up a previously unidentified student. It didn't take Gallot long. He drove a short few yards to Jewett Hall, walked up the steps, met Harris in the dorm lobby, walked her to his black-and-gold golf cart and whisked her away.
Once at Jacob T. Stewart Hall, Gallot walked Harris to the front door, down the hall and to her class, where her teacher, Marcus Davis, greeted her and her classmates were surprised to see Gallot escorting a student to their class.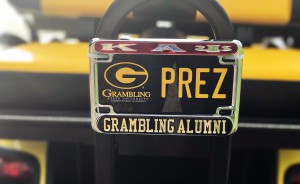 "As it turns out, the young lady we did give a ride to is a transfer student who hadn't applied yet, so it all worked out great," added the president, who drove the Washington, D.C., native to her 8 a.m. sociology class with Marcus Davis. "One thing that I think is important is a man's word is his bond, and I said I would take a student to class on the first day and I did it."
Harris, a transfer student from Bowie State University, enjoyed the attention, and the ride, though it was a little rocky compared to riding in cars. "It was scary pulling off because it kinda jerks when it pulls off, and there are no seat belts," she said. "I just had to grab onto the handle to my right….I was going up and down …and it was fun."
She received a lot of looks and waves as she rode with the president, and even later in the day.
"The experience was eye-opening….People were really excited for me to be on the cart," she said. "Random people on the street were saying, 'Hey, girl, congrats. You're in the cart with the president.'"
It was one of several classroom visits Gallot made, stopping in Brown Hall, T. L. James Hall and Carver Hall to visit faculty and students. For Gallot, it was a little like his former days as a politician, making lots of stops in the same day, bringing greetings, shaking hands, giving pats on backs and offering warm wishes as he moved from class to class. At each classroom told faculty how much they appreciated what they were doing, teaching GSU students, and thanked students for selecting Grambling State.
He did solicit one promise during each stop: Strive to earn all A's.
Fall 2017 First Day of Class Photo Gallery

Fall 2017 Eclipse Photo Gallery

Additional Photos/Galleries: https://www.flickr.com/photos/gramblingstateuniv/albums
The NCAA clarification does not include seasons prior to the 2012-2015 academic years.
Grambling State University will not have to vacate its 2011 football championship season, including the 2011 Southwestern Athletic Conference championship.
In a communication GSU received from the NCAA Monday, the national athletics governing body clarified that the NCAA sanctions previously announced include the 2012-13 through 2015-16 academic years and therefore the "violations that occurred during the 2011-12 academic year are not included." That means the 2011 football season record stands. The 2011 championship football team was 8-4 overall and beat Alabama A&M University 16-15 on Dec. 10, 2011, to win the SWAC title.
"This is a good day for Grambling State athletics," said GSU Athletics Director Paul Bryant. "We have been through a lot these last several years, and we've had some most unfortunate failings that we are working to continue to assess and correct. It's certainly good news that former head football coach Doug Williams and his G-men team will continue to be recognized for the good performances they had in fall 2011.
"Still, we acknowledge there were a number of things that should not have happened, and we have taken corrective action," he added. "We recently invited the NCAA to our campus to help educate and train our entire athletics administration team and coaches. We are confident that we will perform far more effectively in the future when it comes to NCAA guidelines and policies."
GSU President Rick Gallot expressed his appreciation to the NCAA for the review and clarification, and he thanked Bryant and his team for being dogged stewards of the school's academic and athletic obligations and responsibilities. "The NCAA has an important job to do holding all its institutions to high standards, and that includes our beloved institution with its storied athletics history," said Gallot. "We thank the NCAA for this clarification, which I know will bring relief to many of our alumni and fans. I assure everyone that we will come out of this situation better and stronger."
###