Food TV cook prepares spicy shrimp during special homecoming event
By DERRICK JOHNSON/GSU Media Bureau
Chef Jaaion Barnes prepared some New Orleans-style barbeque shrimp on two large skillets on a table as bystanders watched, anticipating a taste of the delicacy he was preparing. Dressed in a blue, long-sleeved button down and white pants and a black apron, Barnes kept looking at the seafood, checking the temperature of the flames and adding splashes of salt, pepper and a homemade creole sauce as Harrington Harris and Jon Weatherspoon licked their lips outside on The Yard.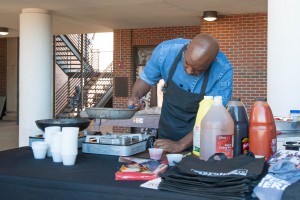 When Barnes was done, he putted them to the side and Grambling State University students quickly starting grabbing them. Harris, 21, a senior mass communication major from Phoenix, gave Barnes two thumbs up when he tasted the spicy shrimp. "It's the best shrimp I've ever tasted," said Harris, who likes to cook only breakfast food.
Barnes, a chef who has appeared on Bravo and Aspire TV, is based in Atlanta, where he is a chef for events and celebrity clients. He returned to Grambling to celebrate homecoming with friends and colleagues and he wanted to give back. As a 2005 graduate of the university's hotel and restaurant management program, he asked to set up a special opportunity for students and others to taste what he's done with the culinary skills he developed at GSU.
Students came out in droves on Wednesday to chow down on Barnes' tasty seafood during a food tasting event on The Yard. It was an event Barnes had worked on since the summer.
Barnes began his career at 18 years old at the Cheesecake Bistro in New Orleans, working as a line cook. After he graduating from Grambling State, Barnes moved to Atlanta to further his education at Le Gordon Bleu Culinary School of Arts.
While pursuing his culinary arts degree, Barnes worked his way through the ranks at Cheesecake Factory. He was ultimately promoted to the kitchen manager and in less than two years after he earned his degree. He took his career to newer heights after a four-year stint with Cheesecake by accepting the position of corporate executive chef at the Atlanta Hartsfield-Jackson International Airport, the world's busiest airport. After working at Hartsfield, he served as a culinary instructor at his alma mater the Le Gordon Bleu.
Several students in attendance raved about Barnes' food. Some asked if could he start a cooking class at Grambling State. It's an idea Barnes said he's considered.
Barnes said a culinary program might be in the works, and it could be a two-year degree program His goal would be to see the initial culinary program become a four-year program.
"It was good giving back to the university," said Barnes.
###