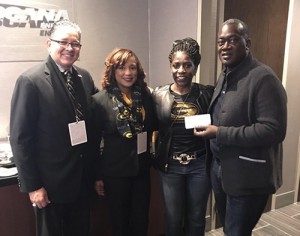 By STEPHANIE LINDSEY/GSU Media Bureau
Perry and Monica Jones found their perfect match at Grambling State University, and now they're using corporate matching gifts to support the university that launched their relationship and their careers.
Perry Jones, a Chicago, Illinois, native, and Monica Jones, originally from Mobile, Alabama, both came to Grambling in 1980. She was a marketing and information systems major and graduated in 1983. He majored in industrial technology and automotive, and received his degree in 1984.
"Grambling was an amazing experience for both us. It truly was the place 'Where everybody is somebody.' You just felt how invested the faculty and administration were in you personally. We came into our own at Grambling and made lifelong friends," Perry Jones said.
He is the senior vice president for North America, Manufacturing and Distillation – Diageo and she is director of Enterprise Sourcing for Cox Enterprises Inc. They have residences in Atlanta, Georgia and Naperville, Illinois.
Giving back to the university that gave so much to them has always been a goal for the Joneses. "We have been blessed in our life together after Grambling and because of that we want to see that tradition continue with the next generation," he said.
In 2009, the Joneses committed to raising $100,000 for Grambling. Currently, they are over 50 percent of that goal with over $60,000 raised.
"Due to some of the changes at Grambling over the years, we pressed pause on that commitment. However, we were re-energized with the creation of the Center for Professional Development under Otto Meyers and the outreach by Marc Newman after the installation of President Gallot. We have all the confidence in Rick and Marc's leadership," he said.
"It was the gift from Monica and Perry Jones that really jumpstarted my understanding of the power and potential of fundraising at GSU and among the Grambling community. Their generosity came at a pivotal time for me. I was new to Grambling. Their personal support of me and my department's success is greatly appreciated," said Marc Newman, vice president for Institutional Advancement at Grambling.
Much of the Joneses' success in giving back has been through maximizing corporate matching gifts.
"I've utilized company match where my company has matched my personal donations. It's a way to get more money to your chosen charity," he said.
"The Joneses' utilization of workplace giving is an example of how powerful the matching of giving amounts can be," said Newman.
For more information on workplace

giving

or to make a gift to Grambling State University visit
www.gram.edu/
giving.
###
In higher education, every university's history includes the gift of a few iconic leaders whose work and service grow the very fabric and trajectory of the institution.
Dr. Joseph B. Johnson, the third president of Grambling State University, was uncontestably one of our legacy's greatest gifts. My GSU president and fellow member of Kappa Alpha Psi's Gamma Psi chapter, Dr. Johnson will forever be remembered as a bold and progressive leader.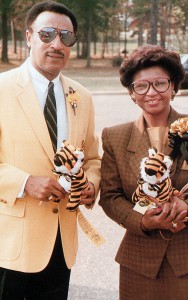 Never afraid to speak his mind or challenge the status quo, he helped elevate our University to one of America's most influential and recognized African American institutions.
His voice and contributions created impact that will be felt for generations to come. From his conversations with students under our "tree of knowledge" to his Whitehouse visits with various presidents, his presence helped create the change our university, nation, and world needed to see.
He and his administration's tireless work on legacy-changing efforts included preparing the Consent Decree, which brought millions of dollars to GSU; establishing key academic programs including our School of Nursing, MBA program, and top-ranked computer science programs; and establishing GSU's Earl Lester Cole Honors College and our doctoral program in developmental education.
Our first alumni president and the first Kappa president of GSU, Dr. Johnson will be remembered for the way he used his Grambling love to grow our University's place in history.
He invested in our community, campus, and a long list of GSU alumni who have followed in his footsteps in shaping our world and education.
Grambling State University will be forever indebted to President Johnson. He was a fighter, a warrior and one of the voices who made sure our institution never settled for ordinary. It was an honor to call him President, mentor, and advisor.
I know I speak for all in our GSU family when I say he will always be remembered and deeply missed. Christy and I send our prayers and condolences to the Johnson family during this difficult time.
Joseph B. Johnson, who led a significant Grambling State resurgence, died early Tuesday
By WILL SUTTON/GSU Media Bureau
Dr. Joseph Benjamin Johnson, Grambling State University's third president died Tuesday (Jan. 2) after a lengthy illness.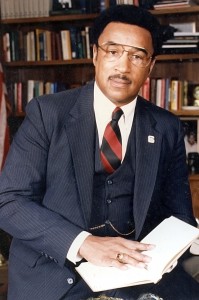 Johnson, a longtime favorite president who served from 1977 until 1991, succeeded Ralph Waldo Emerson Jones, who served Grambling from 1936 until he retired. Johnson, who fought to save the school from financial failure as state and other challenges threatened its existence, led student enrollment growth from 2,600 to a record-setting 7,000-student enrollment.
"We have lost an iconic leader who elevated the standing of Grambling State University across the globe," said GSU President Rick Gallot. "I remember Dr. Johnson's fierce resolve to protect and enhance our school. He was my president when I was a student, and and he served as a mentor and advisor very early in my tenure as president."
Johnson pushed for and got a September 8, 1981 consent decree between the State of Louisiana and the U.S. Department of Justice. He worked with Lamore Carter, vice president and provost, and attorney Thomas N. Todd to research and prove that Grambling deserved greater support. That effort resulted in new campus building construction, employee raises, and new academic programs, including the creation of the School of Nursing in 1983 and the first doctoral developmental education program in 1984.
These and other significant improvements quickly established the university as a major institution on the move as it grew stronger and created a greater academic focus. Academic and education leaders across the nation said Johnson was responsible for becoming a comprehensive university with strongly enhanced academic program offerings.
Johnson once said that it was his appreciation and respect for leaders no matter what their political party that helped him get some things done. He worked with Louisiana Gov. David Treen, a Republican, to get him to sign off on the consent decree, and Treen told Johnson he did it "because it's the right thing to do."
Some reports say Johnson inherited a $7 million deficit and the consent decree allowed him to pay off that debt and implement big changes with an operating budget of $125 million.
In a Tuesday night interview, Todd, who Johnson asked to represent the school's national alumni association, said Johnson was the leader, the cog and the force behind the consent decree. "The key was Dr. Johnson and his willingness to stand up to authority and to stand up for Grambling," he said. "His work resulted in Grambling getting $300 million" to grow the institution.
"He was the reason it all came together. There were concerns that people were trying to close Grambling, but once he arrived most of that concern disappeared because of his attitude and stand that Grambling had every right to exist – and to do more," Todd said from Chicago. "He was an educator's educator who believed that students were most important….He was interested in not only Grambling, but education generally."
Johnson led a significant number of changes at the institution. Though it is common these days for higher education institutions to have online registration, Johnson implemented an online registration process in 1987. He was president as head football coach Eddie Robinson continued to rise in prominence nationally, becoming the winningest football coach. A masters in criminal justice program was launched during his tenure. He not only started the school's nationally recognized nursing program, he successfully sought $50 million to build a nursing school.
Once he left Grambling State in 1991, ending 14 years of leadership at his alma mater, he became president of Talladega College and served there until he retired in 1998.
Before Johnson was Grambling State's leader, he was a student at the school. When he signed on to play in 1954 he played basketball under Eddie Robinson, who coached basketball and football at the time, playing alongside some of Grambling greats, something that Johnson would joke about from time to time.
"I played with Bob Hopkins, and Bob was the nation's leading scorer," Johnson said in one interview, mentioning "Hambone" Hopkins, a Jonesboro native GSU athlete who went on to play pro basketball. "I was the quarterback of the 1955 team. I was to Grambling's championship team what Bob Cousy was to Boston. If Bob Hopkins was the nation's leading scorer, then I must have led the nation in assists because somebody had to pass him the ball." No stats for assists were kept, so there's no telling what the record showed. Johnson was inducted into the Grambling Legends Sports Hall of Fame as a part of a class of 15 several years ago.
Johnson had an impact across the State of Louisiana, and colleagues and friends from Grambling to Jonesboro to Chicago reacted to his death.
"I am sad to learn that Dr. Johnson has passed," said Baton Rouge's E.L. Henry, an attorney who served as speaker of the Louisiana House of Representatives when Johnson was GSU president. "I well remember when he became president of Grambling State University and the impact he had, not only on the university but the entire area. He was a dedicated public servant and an example for all of us to follow."
Yvette Mansfield Alexander, a Baton Rouge city judge, Louisiana, recalled Johnson's beginnings as the university's leader. "He came in with a Grambling heart and a sturdy, father hand. It was just what Grambling needed," she said. "He only wanted the best for his, and my, dear ole Grambling.
"Dr. Johnson was a student-centered president, and it showed in Grambling's growth during his presidency. He was the epitome of excellence and a true gentleman. Grambling has lost a great one. He will forever be MY president."
Joyce Evans, general manager of GSU's KGRM radio station and Grambling resident, said Johnson was serious about the university. "There was not a thing that Dr. Joseph Johnson did for Grambling State University 'just for the fun of it,'" she said. "He did great work, intentionally, to build and grow this great Institution."
Jonesboro Mayor James Bradford, who graduated from Grambling more than 50 years ago, worked with Johnson when Johnson was president and Bradford was a Grambling University National Alumni Association leader. "Just as The Messiah was anointed by God to deliver his people and establish His kingdom, it is my belief that Dr. Joseph Johnson was anointed by God and sent to Grambling State University to save dear ole Grambling," he said. "Dr. Johnson will always be remembered as "the developer" of Grambling State University."
Johnson was a member of a number of civic, professional and social organizations, including Phi Delta Kappa and Kappa Alpha Psi Fraternity Inc. He and his wife, the late Lula Young Johnson, are the parents of four adult children, Yolanda Johnson Dixon, an attorney and Assistant Secretary of the Louisiana Senate, and triplets – Julie, a medical doctor; Juliet, a Fisk University administrator, and Joseph III, an actuary and financial analyst. He was the son of the late Lillie M. Johnson and the late Sidney T. Johnson of New Orleans.
At Johnson's request, the Johnson family said there will not be a funeral service, according to Gallot, who said GSU will honor Johnson soon.
###
Dr. Joseph B. Johnson (interviewed by Loretta Parham) provides perspectives on presidential leadership at HBCUs
###