CNN Analyst & White House Correspondent to Keynote GSU's Black History Convocation
By GSU Media Bureau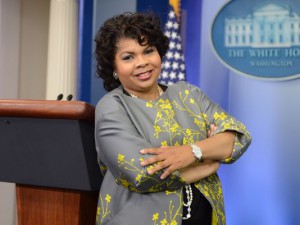 GRAMBLING, LA — February 26, 2018 – White House Correspondent, April Ryan, who is well known for her coverage of presidential administrations and African-American issues will deliver the keynote address at the 2018 Grambling State University Black History Convocation on February 27, 2018.
The only black female reporter covering urban issues in the White House and one of only three African Americans to serve on the board of the White House Correspondents Association, Ryan is a veteran journalist who began her White House work during the Clinton era. Since then, she's grown to become the Washington Bureau Chief for the American Urban Radio Networks and through her "Fabric of America" news blog, CNN appearances and radio content, she reaches millions of Americans weekly.
"For more than one hundred years, Grambling State's led Louisiana in engaging and attracting those who champion the African-American vantage point in media," said Rick Gallot, GSU's 10th President. "We're honored to host Mrs. Ryan to share her unique perspective with our students."
Ryan joins a long list of notable African-Americans featured at Grambling State University events, including Roland Martin, Johnny C. Taylor, and Dr. Frederick D. Haynes, III.
GSU's Black History Convocation is free and open to the campus, surrounding communities, and media.
Grambling State University Black History Convocation, 2018
Tuesday, February 27, 2018 | 11:00 a.m.
T.H. Harris Auditorium, Grambling State University
403 Main Street, Grambling, LA 71245
 For media credentials or more information, please contact mediarelations@gram.edu.
###
About Grambling State University
Grambling State University, located in Grambling Louisiana, is a historically black university founded in 1901. The University has been accredited by 13 accrediting associations and holds accreditations in all programs required by the Louisiana Board of Regents. The 590-acre campus offers 43 undergraduate and graduate degree programs. Grambling State University is a member of the University of Louisiana System. For more information visit gram.edu.