Historic Unity Town Hall on Monday connects University & City of Grambling leaders 
GRAMBLING, LA — March 13, 2018 – President Rick Gallot and Mayor Edward R. Jones will host students, faculty, and community members at a Monday town hall to discuss the future of the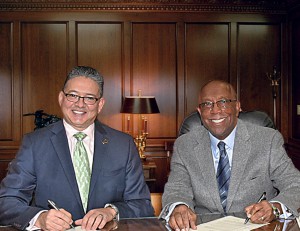 collaboration between Grambling State University and the City of Grambling.
Billed as a "Unity in the Community" forum, the event is sponsored by the GSU Department of Mass Communication and the Greater Grambling Chamber of Commerce.
"We know that community partnership is a large part of what makes any University work. At Grambling we are fortunate enough to have a President and Mayor who have an open dialogue that fuels our historic relationship," said Dr. Robbie Morganfield, event co-organizer and head of the Department of Mass Communication. "I'm excited that we get to publicly host and invite community members into what will be one of many conversations."
Community residents, media, and the university campus community are invited to attend the forum.
Event Details
Town Hall: "Unity in the Community" 
Fredrick C. Hobdy Assembly Center, 100 North Stadium Drive, Grambling State University on Monday, March 19, 2018, from 6 p.m. to 8 p.m.
Community members and attendees are encouraged to submit questions for the panelists about the past, present and future of the city and university.
To submit questions or for more information email mediarelations@gram.edu or contact Dr. Robbie Morganfield, head of GSU's Mass Communication Department at 318.274.2189 or Dr. Reginald Owens, president of the Chamber at 318.243.4337.
Grambling State Alumni and Friends raise $114,000 to support Presidential Initiatives
March 9, 2018
Draped in black and gold, more than 100 GSU community members joined Jonesboro Mayor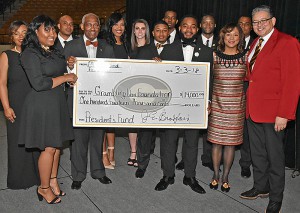 James Bradford for the second annual New Era of Excellence Reception Saturday, March 3, 2018 which raised more than $100,000 for Grambling State.
The reception, in its second year, was originally inspired by alumni who, ignited by President Rick Gallot's appointment, who wanted to create a new way to support GSU's growth.
"We're thankful for the many partners and individuals that support Grambling State," said President Gallot. "That support comes in many ways and when I see folks show up and participate in events like this, it reminds me of the privilege it is to serve our incredible students and community."
Since 2017 the New Era of Excellence effort, led by long-time alumni and GSU supporter James Bradford, has raised almost $260,000 earmarked to go directly toward University initiatives.
"We do this, because we know that we must," said Mayor Bradford. "If we don't support Grambling, who will?"
Hosted by a team of students, alumni, and University staff, the event drew donations and support from some of the largest businesses in North Louisiana including Jonesboro State Bank.
"We're excited about all of the support we continue to see for Grambling State University," said Marc Newman, Vice President of Advancement at GSU. "It's proof that people believe in the leadership and direction of the University."
For more information on the New Era of Excellence and more opportunities to donate the effort, please visit gram.edu/giving and select "New Era" in the giving portal.
First National, Coca-Cola, and Others Strategize to Invest in Grambling State
March 6, 2018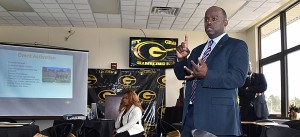 Business giants in North Louisiana's economy, including Coca-Cola and First National Bank, are actively strategizing ways to leverage their more than billion dollars in value to support  Grambling State University.
"We've been a sponsor for many years and have always gotten a lot out of working with Grambling State," said Brian Smith, a Senior Vice President at First National Bank. "First National Bank is excited to be a part of the team that supports Grambling's growing vision.
Smith and 13 other executives from companies that include Primary Health Services, Coca-Cola, and State Farm joined University leaders last Thursday to explore strategies and discuss the future of Grambling State.
"We know our President's big vision is going to require big collaboration," said Marc Newman, Vice President of Advancement at GSU. "That means we have to connect with partners who can help turn that vision into a sustainable reality."
"We have a marketable product – in 2017 over 200,000 guest and fans visited campus. They are consumers who will support our local business partners. Grambling State University is truly a worthwhile investment."
Newman and business leaders met as a part of GSU's second annual Lunch and Learn which, in the past two years, has helped coral support for scholarships, campus improvements, and major athletics and facility projects, including recent football stadium upgrades.
This year's lunch and learn connected 14 partners representing 11 companies whose business range from apparel sales and insurance to healthcare and hospitality. This year's attending companies included:
Ruston Convention Visitors Bureau
Primary Health Services Center (PHSC)
Collegiate Shop
First National Bank
Coca-Cola
State Farm
Reali-Tees
I Love my HBCU
Fairfield Inn
Princeton Place Skilled Nursing & Rehab
Tommy's Tees
"The economic impact of Grambling is immense and growing. It's showing in the number of companies that show up and support us," said Newman.
For more information on sponsoring and supporting Grambling State University, please contact advancementservices@gram.edu.