GSU Alumna Alana Ward Robinson turns Computer Science background into help for hundreds of companies.
By Jovan Hackley & Jasmine Kennedy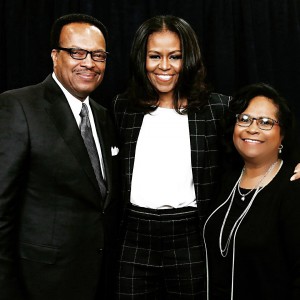 How does a computer science graduate end up creating $100 million engineering initiatives for one of America's top commercial printing providers? "Never give up and never settle for less," says Alana Ward Robinson an active supporter and alumna who uses her experience from IBM, Sara Lee Hosiery, and a series of other Fortune 500s to help grow companies today.
A graduate of Grambling State University and Harvard University's Advanced Management Certificate program, Robinson advises that "We should assume that we're the best. We should assume that we can be number one and never give up on that expectation."
A continuous pioneer in women's and African-American achievement, Robinson's resume includes more than 40 years of helping corporations, non-profits, and higher education institutions across the country and globe find new ways to leverage technology.
That work includes working her way up from an entry-level hire to a senior executive at IBM; a Vice President and CIO for Sara Lee Hosiery, KMart, and Coors Brewery Company; and a board member to international non-profit organizations that include The Executive Leadership Council and the World Food Programme based in Rome, Italy.
Advice for the Women of Today's #GramFam
When asked about the source of her achievements, Robinson, a graduate of the Computer Science program in 1972, offered, "The same effort I put into getting good grades as a student was the same effort I put into doing good work as an employee. I burned the midnight oil. I produced results, and those results came with the rewards of more opportunity."
Those opportunities would take Robinson and her family to more than five major U.S. Cities and help her raise two children with the love of her life, former Drum Major and GSU Alumnus, Elbert O'Neal Robinson.
Why Alana Chose Grambling
One of The Network Journal's Top 25 Most Influential Black Women from 2010, Robinson attributes much of her success to her father and his passion for giving her a Grambling State start.
"Very unselfishly, my dad, who was a Southern grad, was very concerned about his health. My guidance counselor helped me find a four-year scholarship and he thought that, for me, Grambling State made a lot of sense," she shared.
Robinson's dad did live to see her graduate with honors in 1972, after which she moved on to begin her career with IBM where she would become a trendsetting leader in STEM.
Helping Women & Companies Up
Today, Alana and her husband O'Neal lead Robinson Consulting Group, an executive consulting firm they've founded to help businesses across the nation identify and increase value by improving their finance, technology, and digital marketing operations.
"Women have not always been represented in corporate America's executive teams; and not because they couldn't do the job. It is important that we recognize the accomplishment of women executives, such as Alana Robinson," says Dr. Connie Walton, Director of Sponsored Programs for Grambling State and long-time colleague of Robinson. "By recognizing these leaders, young girls, and young boys will grow up understanding that corporate leadership positions are possible for both men and women."
Thank you, Alana Robinson, for helping raise "Grambling Women Up."
To share a story of another Grambling State woman achiever, follow and share #GramblingWomenUp on Facebook or Twitter.