Three G-Men Named to Black College Football Hall of Fame Watch List
Carter, Stallworth and Williams among players selected
By Candice Dixson,
GSU Sports Media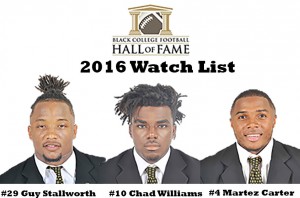 On Tuesday, the Black College Football Hall of Fame announced the establishment of the Black College Football Player of the Year Award, along with the watch list of 52 contenders. Three Grambling State University football team members were included on the list in Martez Carter (running back), Guy Stallworth (defensive back) and Chad Williams (wide receiver).
Carter, Stallworth and Williams have earned the privilege of being selected to the watch list, as all three of them are current All-SWAC honorees in their perspective positions on the field. Last season, Carter produced 1,663 all-purpose yards and 15 touchdowns, Williams finished with 1,012 all-purpose yards and Stallworth lead the team with 101 tackles.
"I am very pleased and excited for our players to receive the honors they have received. Just to be recognized is an honor. Congratulations to all of them, for they work extremely hard for GSU," said head football coach Broderick Fobbs.
Founded in 2009 by James Harris and Doug Williams, the Black College Football Hall of Fame preserves the history and honors the greatest football players, coaches and contributors from Historically Black Colleges and Universities (HBCUs). Since inception, there have been 64 Inductees, including Mel Blount, James Harris, Willie Lanier, Art Shell and Doug Williams, who all serve as trustees.
"We're excited about the establishment of this Award, which will honor the best football player attending a Historically Black College and University," said Super Bowl MVP quarterback Doug Williams, a 2011 inductee and BCFHOF co-founder.
"Players from Historically Black Colleges and Universities have had a tremendous impact on the game of football," said BCFHOF co-founder and inductee James Harris.
The candidates have been selected based on past performance and future potential. Additions to the list may be made as the 2016 season progresses. The finalists and the winner will be chosen by a Selection Committee.
The winner of the award will be announced on February 25, 2017 at the Eighth Annual Black College Football Hall of Fame Ceremony in Atlanta, Georgia.
For complete coverage of Grambling State University Tigers football, please follow @GSU_Tigers on Twitter, GSU Tigers on Facebook, and @gsu_tigers on Instagram. You can also find up-to date information on all things Grambling State Athletics at www.gsutigers.com.
###
Media Contact:
Office of Communications
318-274-2866
mediarelations@gram.edu