MAYO, MONROE DONATE TWO POLICE CARS TO GSU
Vehicles replace high mileage patrol cars, enhancing campus safety
By WILL SUTTON
GSU Media Bureau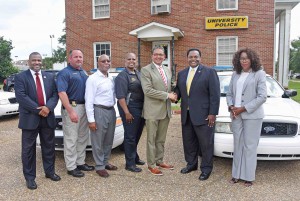 Grambling State University President Rick Gallot said the first thing GSU Police Chief Howard Caviness did after saying congratulations when he was named the university's 10th president was to ask for help.
Caviness told Gallot about the high mileage fleet of five police cars included one wouldn't start, one that couldn't be driven on the highway and another with more than 204,000 miles.
"I got a call from Chief Caviness congratulating me and before he could finish that statement he said, 'By the way, I'm down to two operational vehicles. Mr. President, I need some help,'" recalled Gallot, who started as president August 1.
That casual and serious request led to a series of telephone calls and the Monroe Police Department dropped off a couple of low mileage Ford Crown Victorias at the campus police station Wednesday morning. Gallot called Monroe Mayor Jamie Mayo, who called Monroe Police Chief Quinton Holmes and, soon, a deal was made to seek the approval of the Monroe City Council to transfer the cars to Grambling State.
"Our students' safety and the safety of all of those who visit our campus is our top priority," Gallot said during a news conference outside of campus police headquarters as GSU and Monroe police officers stood by.
GSU has had an under resourced and understaffed police department as state funding has declined in recent years, forcing the department to pour money into old cars just to keep a couple of them running in any given week.
"We really do appreciate this," said Caviness, a criminal justice major at GSU. "I'm a student here at Grambling also, so as a student I appreciate it and as an employee, I appreciate it."
The GSU police chief said most people look at police cars and say they don't want to ride in the back seat. That's understandable, he said, but the Grambling State police officers also provide transportation for students and others.  "Here on this campus, we give rides to the stadium, we give rides elsewhere…And in the rare instance when someone has to go to the jailhouse, we'll also have a comfortable ride for them."
###
Media Contact:
Office of Communications
318-274-2866
mediarelations@gram.edu