GSU STUDENTS AWARDED NAACP SCHOLARSHIPS
Grambling State students recognized for scholarship, community involvement
By MATA DRAIN
GSU Media Bureau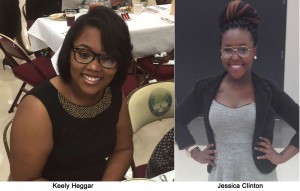 Jessica Clinton and Keely Heggar were ecstatic on stage as they accepted scholarship awards.
Clinton and Heggar, Grambling State University students, each received $500 from the NAACP Lincoln Parish Chapter. They were among six area college students receiving scholarships during a mid-January (Jan. 14) event at the Ruston Civic Center.
Neither Clinton nor Heggar took the scholarships for granted, each saying the awards helped teach them the importance of setting goals.
Clinton, 18, a visual and performing arts major, plans to earn her degree and give back to her Ruston family and the Ruston community. She has learned that setting goals are important to success. "Stay focused and do not let anyone detour you," she said.
Heggar, 18, a social work major also from Ruston, aspires to work with abandoned children, providing them with love while helping the children discover their purposes in life.
NAACP member Brenda Williams, the gift info processing coordinator for Grambling State University, helped choose the 2017 scholarship recipients. "The students submitted applications and completed all criteria required of them, which is the most important step," said Williams. The applicants were required to provide church, community and school recommendation letters; have some evidence of community involvement and indicate how they promote diversity.
The two young women applied for the scholarships through church mentors who told them about the scholarship opportunity. Karen Lewis, a Sunday school teacher at St. David Baptist Church, notified Clinton. Jack Houston, a deacon at Zion Hill Baptist Church, informed Heggar.
Heggar encourages other students to consider applying for the NAACP scholarships, adding  "…you have to apply yourself, they will not be given to you without hard work and dedication."
To find out more information about the NAACP scholarships, visit http://naacplincolnbranch.org/
###
Media Contact:
Office of Communications
318-274-2866
mediarelations@gram.edu