GSU RECEIVES $40K FROM UNIVERSITY ALUMNI GROUP
10-for-10 group raises funds by asking alumni to donate $10 and getting others to do the same, one donation at a time
By KOURTNEY BURNEY
GSU Media Bureau
Grambling State University received $40,000 from GSU alumni raising money with a 10-for-10 campaign urging alumni and others to donate and getting friends to contribute. Co-chair Marva Nichols Griffin and committee member Darryl Jackson represented the group as they presented a check to GSU President Rick Gallot during the annual spring Black and Gold Game festivities Saturday.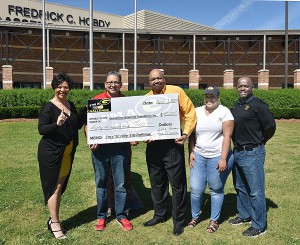 Standing outside, the Fredrick C. Hobdy Assembly Center, Gallot said he was happy to accept the check, and he thanked the alums for their hard work. "What you do and how much you care for our university is impressive, and I truly appreciate this important contribution," he said. "This will help our institution and our students."
Marquisha Riggins and Zaria Chertien, a couple of GSU freshman from Houston Texas, have already benefited. Each received a $500 scholarship to help defray the cost of college. The money raised is used to provide university students who need some money to close the gap of what they have and what is needed, with students receiving scholarship grants between $500 and $750.
Since its start in 2015, the $10-for-10 project has raised thousands. Griffin said the group raised $55,000 in its first year, making a total of $95,000 raised.
Co-chair Angelee Moody Rhynes, a 1988 alumnae, said the group is happy to help their alma mater. She said the effort has a social media focus because so many alumni and students are on social media. "If you donate $10 you send the invite through social media for a friend to take on the challenge of donating $10 as well," she said. "The campaign was originally started to encourage alumni who could not donate large sums, to donate $10 and send it to 10 friends to then donate…. It encourages a lot of donations."
Jackson beamed as Gallot accepted the check. He said he loves his school because GSU has done so much for him and he wants to help. "Grambling is a part of our heritage and a part of everything that you become," said Jackson, a Shreveport attorney and a life member of the Grambling University National Alumni Association who graduated in 1984. "I could not have achieved many of my achievements if I did not attend Grambling so I encourage our alumni and students to give back to our beloved institution."
Marc Newman, GSU vice president for advancement, said the group represents the type of alumni committed to helping the institution, especially with financial contributions. "This is the type of alumni driven campaign that is truly appreciated," he said. "With continued support are well on our way to having the type of endowment, scholarship support and working capital GSU deserves."
###
Media Contact:
Office of Communications
318-274-2866
mediarelations@gram.edu