GSU PAGEANT EMPHASIZES SCHOLARSHIPS
Miss Cover Girl 2017-18 says the money makes a big difference
By KOURTNEY BURNEY
GSU Media Bureau
Oftentimes pageants focus on glitz and glam but Grambling State University's annual Calendar Girl pageant is different with an emphasis on scholarships rather than trophies.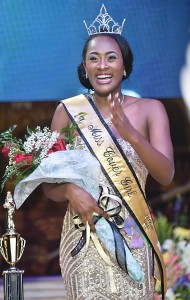 For the past 49 years, GSU has hosted its scholarship pageant, this year awarding scholarships 15 winners: Miss Cover Girl, two Cover Girl runners-up and one for each of the 12 months of the year. This year's pageant was held March 18 in the T.H. Harris Auditorium. The audience was filled with supporters of the contestants, many holding signs of support.
Successful contestants who won the right to be displayed in a calendar on a particular month and the two Miss Cover Girl runners-up each received $100 per semester. Miss Cover Girl gets $600 per semester as well as room and board.
"These young ladies compete in a number of categories, and they work really hard to win in each one. They raise money to support their participation, the pageant and the school," said David "Rusty" Ponton, interim vice president for student affairs. "In the end, our top winners walk away with scholarship money, and that's an important aspect that makes this more than a beauty contest.
"Many of these young ladies have never been in a pageant before. When it's over you can see the sense of accomplishment and joy in their eyes even when they don't win a category or month."
As the program ended, Jameria Davis-Miller, a sophomore biology major was named the 2017-2018 Miss Cover Girl.
"I am overwhelmingly grateful that God allowed me to represent us, the student body of THE Grambling State University, and reign as the 2017-2018 Miss Cover Girl," said Davis-Miller. "It is definitely an honor and a privilege to wear the crown and receive the scholarship while increasing financial literacy among my fellow Grambling students."
Davis-Miller, a Monroe, Louisiana, native, was one of 28 students competing for a calendar girl spot. Davis-Miller said the scholarship money was an important part of her decision to participate as it helps her family and she gets to continue representing Grambling.
The contestants compete in casual, swimwear and evening gown segments. They are judged by a panel that determines the winners based on scoring.
"I was pretty stressed out at first about the pageant on how things would go, but my parents work 50 plus hours a week so getting a scholarship back for something that was beyond enjoyable really helps them out as well as myself. It also encourages you to be more involved at Grambling," said Charly Gay, a freshman and a native of Houston, Texas, recalling her long nights of pageant preparation. Gay won Miss December.
###