GSU COMPETES IN HONDA ALL-STAR CHALLENGE TOURNAMENT
Grambling State quiz bowl team will compete with the nation's brightest HBCU students in California
BY JESSICA WRIGHT
GSU Media Bureau
Grambling State University has qualified to compete at the Honda Campus All-Star Challenge (HCASC) National Championship Tournament, a prestigious competition that showcases the academic prowess of the brightest students from America's Historically Black Colleges and Universities (HBCU). Nearly 50 student teams have qualified for this year's national championship tournament, April 8-11 in Torrance, California, outside of Los Angeles.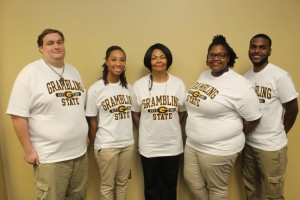 Competing for the 48 qualifying tournament spots were 78 HBCUs. After seven qualifying tournaments held in early February, the smaller group of schools earned the opportunity to compete for the title of national champion and a $75,000 institutional grant from Honda. Jharrayne McKnight, a senior biology and chemistry major; Jasmine Ayatey, a senior elementary education major; John Carter, a junior history major, and Donavon Travis, a freshman marketing major will represent GSU.
"Not only do these tournaments give us the opportunity to show off our skills, but it also serves as an invitation to fellowship with like-minded students from HBCUs across the nation," said Ayatey.
The team includes veteran HCASC quiz bowl competitors, and it is the fourth year competing for three of the four team members. Travis is new to GSU and the competition, and he is excited. "I've just started and I've already made a lot of memories and I'm looking forward to making more," said Travis.
GSU team agrees when they describe this experience as it differs from past years because they had to learn how to work together without a teammate who graduated. "We had to learn each other's personalities, strengths, and weaknesses and use that to build our collective knowledge base and help each other," said Carter. They did not do well at this year's national qualifying tournament (NQT); they came away with a three-way tie for a third place finish, lowering their ranking.
"In recent years, Grambling State has had first and second place finishes at NQT and were a part the "Sweet 16" at the National Championship Tournament (NCT)," added McKnight, team captain. "This year, the team's goal is to reach the "Elite 8" to compete on-stage at the American Honda Headquarters for the national title."
Team captain McKnight believes having a team with mostly veterans sets them up for success, no matter which teams they face.
"Similar to any other sports team, I think that with the proper training schedule and ample resources we should be able to make it to the top," said McKnight. "Though we do not have all the resources I would wish for our team, I know that we have worked hard to try to still be successful this competition season."
"We'll be cheering for and pulling for Team GSU," said GSU President Rick Gallot. "These young scholars represent our institution well, and they prove that we're a strong academic institution. We wish them well."
Honda representative Steve Morikawa said the GSU team has a lot to make them proud. "Earning a seat at the National Championship Tournament is no easy feat, and we congratulate each and every student for displaying the drive and determination necessary to do so," said Morikawa, American Honda's vice president for corporate relations and social responsibility. "Over its 28-year history, Honda Campus All-Star Challenge has become a multi-generational community event, and we look forward to hosting the students and providing their families with an opportunity to watch them compete in California."
The final round of the 2017 National Championship Tournament will be live-streamed on April 10 a.m. at 11 a.m. CT and 12 noon ET on HCASC.com.
For more information on the 2017 HCASC, including a full list of the 48 qualifying teams, visit www.hcasc.com.
Connect with HCASC via social media using #HCASC:
Facebook: www.facebook.com/HCASC
Twitter: www.twitter.com/HCASC
Instagram: www.instagram.com/hcascpix/
About Honda Campus All-Star Challenge:
Celebrating HBCU academic achievement, Honda Campus All-Star Challenge is one of Honda's largest and longest running philanthropic initiatives in the United States. Since 1989, the program has impacted the lives of over 100,000 HBCU students across 22 states. Through Honda Campus All-Star Challenge and Honda Battle of the Bands, an annual marching band showcase, Honda has awarded more than $10 million to support music and educational programs at America's HBCUs.
For more information, contact:
Mary Oberembt, Honda Campus All-Star Challenge: (800) 388-2272 x107 / mary@hcasc.com
Jaymie Robinson, Honda North America, (310) 783-3943 / jaymie_robinson@hna.honda.com
####