GSU DANCE COMPANY CELEBRATES SHREVEPORT PASTOR
By GSU Media Bureau
Grambling State University's Orchesis Dance Company is preparing for its 10th year anniversary performance of the annual Dance His High Praise show in Shreveport. The April 22 event will be held at the Strand Theatre at 7 p.m.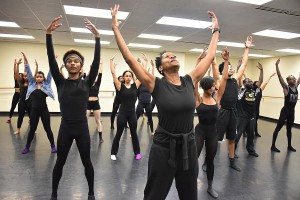 This year's performance honors E. Edward Jones Sr., a civil rights leader and pastor of Shreveport's Galilee Missionary Baptist Church for 57 years. Jones died at 85 years old in June 2016. Jones was central in the development of Galilee City, an uplifting revitalization of Shreveport's Allendale neighborhood. Jones also served as president of the National Baptist Convention of America and was selected by Ebony magazine as one of the "100 Most Influential Blacks in America." He filed a 1965 lawsuit on behalf of his daughter, spearheading the desegregation of Caddo Parish School System and bringing about the integration of the public schools.
Jones started his higher education path at Grambling State University at the age of 17, graduated and later established a scholarship at the school. The auction at the Dance His High Praise show will help fund the scholarship.
"This event will be different because it will include a silent auction in remembrance of Pastor E. Edward Jones," said show producer Vincent Williams. "The auction will have things available for purchase such as jewelry and other treasures. The proceeds received from the auction will be turned over to the Reverend E. Edward Jones, Sr. and Mrs. Leslie A. Jones Endowed Student Scholarship."
In addition to Orchesis, the Christian Dance Center will perform. Some members of the Shreveport dance center have gone on to join Orchesis in college. The two groups will perform to "If I Could Help Somebody" as a special tribute to Jones. There will be a special closing performance with some special guests.
"We are performing King Jesus for the closing and I have invited several alumni to come back to perform with us," said Dianne Maroney Grigsby, Orchesis director.
To reserve tickets, call the Strand Theatre box office at (318) 226-8555.
###