GSU, OTHERS REPRESENT UL SYSTEM IN BATON ROUGE
Cheer, SGA, SLI and World Famed help Grambling State be heard, seen, understood during ULS Day
By MINIYA SHABAZZ
GSU Media Bureau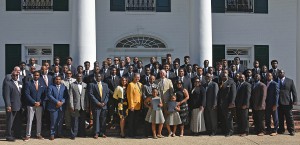 Grambling State University, Louisiana Tech University and the University of Loiuisiana at Monroe all were represented at the University of Louisiana System day at the Capitol.
The goal of the day was to highlight the opportunity for legislators to change the pattern of draconian cuts to higher education to one of investment in our state's future.
GSU brought the largest contingent, with the HBCU national championship football team congratulated by Gov. John Bel Edwards at the Governor's Mansion and the GSU World Famed Tiger Marching Band performing a concert on the Capitol steps. The GSU leadership team, including Student Government Association leadership and the President's Student Leadership Initiative, also was present.
"It was a good day for the UL system and a great day for Grambling State," said GSU President Rick Gallot. "The system has been quite supportive and we know that will continue. I know my former colleagues in the house and the debate are good people and good leaders, and we trust that they will see the faces of our students and understand that they and the institutions they attend deserve support."
Henderson echoed Gallot's comments.
"Our system serves over 90,000 students from every parish in the state of Louisiana," ULS President Jim Henderson said. "It's a $3.9-billion-dollar direct economic impact; our graduates have earned $6.5 billion in increased salaries after they graduate.
"We think it's important that legislators understand that higher education investments in UL Systems are not a cost, they are not an expense to the state they are an investment in our future," Henderson said.
"We want to showcase the return on investment that the state gets in higher education by showing them the faces of about 800 students at the university of Louisiana systems universities," said Henderson.
Louisiana Tech President Les Guide also touched on the importance of networking with state officials.
Because everyone is not from the same part of the state, they may miss key information on what is going on in another part of the state like Grambling or Tech.
"I just met a representative from the west bank of New Orleans and so we get to tell about a little bit about what we do up in north Louisiana. Hopefully it helps them understand how to make good decisions," said Guice.
He has been at Louisiana Tech for 39 years and has been president since 2013.
Guice enjoyed watching the different students interact with each other, showing off their school pride and networking with one another. This made him reflect on how a lot of Louisiana graduates stay in Louisiana, which creates an impact to the state's workforce and gives back to the state.
"Higher ed is not a cost. Higher ed is an investment. It's an investment for our future. Without this investment our students may not have the opportunity to compete for the best jobs in the country," said Guice.
Although the University of Louisiana at Monroe is on spring break, they still felt the need to make their presence known.
"The most important thing is to develop network and communication lines so you can avoid some potentially harmful legislation passing that may impair the universities," said ULM President Nick Bruno.
The capital is no strange place to Michael Meadows, the SGA president of Grambling State University. He visits the capital every month with other SGA presidents to advocate for higher education.
"The Council of Student Body Presidents meet the actual system's board members making sure that they understand the actual students concerns the actual student issues that the universities are facing," said Meadows.
Grambling brought more than their SGA president, one of them being Elizabeth Eddy, the SGA Chief justice.
"We are trying to promote GSU as a whole, support the GSU football team because they are getting honored today and to get some more money in the ULS system," said Eddy.
GSU's HBCU national championship football team was honored in both the Louisiana House and Senate chambers as both bodies went into session for the day.
"GSU represented well. Our band, football team, student leaders, faculty and staff showed up in force from campus and our Baton Rouge chapter alums came out strong," added Gallot. "It's important that we all realize that Gov. Edwards and the state legislature have a lot of significant issues to consider. We just want them to see GSU and the other higher education institutions as good investments worthy of support."

Photos credit to GLENN LEWIS/GSU Media Bureau.
###
Media Contact:
Office of Communications
318-274-2866
mediarelations@gram.edu