NEW GSU LIBRARY IDEA MOVES FORWARD
Gallot updates UL system board, providing plans for 44K-square-foot design full of technological advances
By WILL SUTTON/GSU Media Bureau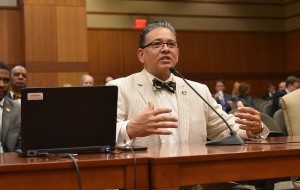 Grambling State University President Rick Gallot told the University of Louisiana System Board of Supervisors that the existing campus library has outlived its usefulness and GSU students deserve something much better.
"The GSU Library of the future must reflect the technology and trends of the 21st Century Library" Gallot said during an interview. "It's time for us to start moving to a new concept, something that better fits the ways our millennial students, faculty and others actually read, study and use resources and tools."
During a Thursday afternoon presentation, Gallot said the 87,000-square-foot A.C. Lewis Memorial Library must be replaced, and it should be replaced by a smaller, 21st Century library with far more technology resources for students to be successful.
The president told the board how the school had an initial meeting with a library design consultant, followed that with a series of public campus focus group sessions then entertained a 66,000-square-foot library option before reducing the request to a 44,176-square-foot option that is more the right size for the right amount of money during some rather challenging financial times for the state. He said this smaller proposal would cost about $15 million.
"We might have been able to get something like that with more bells and whistles, but we really want to be more realistic and provide something that is more likely to be advanced through the system and legislative processes by focusing on a more reasonably-sized and priced version," said Gallot.
If approved and constructed as proposed, the library would be built on prime campus property along R.W.E. Jones Drive, across the street from the J.T. Stewart Building and the Tiger Village Clubhouse near Simmie Holland Hall and Martha Adams Hall.
During the focus groups campus representatives said they would like to see media and technology upgrades and collaborative spaces in a new library. With that feedback, Gallot asked the library design consultant to design a GSU-specific library of the future. In a short few weeks, the consultant provided a concept that would significantly alter how students use a campus library from a book volume-focused facility to a building full of electronic resources and tools.
Board Chairman Alejandro Perkins told Gallot he was impressed with how he has handled the process, especially including key stakeholders.
Moving forward, Gallot said the next steps include remaining engaged with GSU's legislative delegation and state office of Facilities, Planning and Control as the school request advances through the legislative process. After final approval by the legislature, he said the university will seek State Bond Commission funding approval to engage an architectural firm to begin the design phase of the project.
###
VIEW A PRESENTATION ABOUT THE PROPOSED LIBRARY