URBAN LEAGUE PRESIDENT ADDRESSES GSU GRADUATES
By GSU Media Bureau
Marc Morial, president of the National Urban League and former New Orleans mayor, will deliver the spring 2017 commencement address on May 12. The graduation is scheduled for 10 a.m. in the Fredrick C. Hobdy Assembly Center.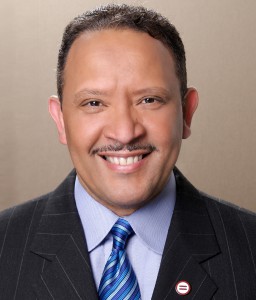 "Mayor Morial has an international reputation; he's a focused leader and activist, said GSU President Rick Gallot. "We are excited that the head of the nation's largest historic civil rights and urban advocacy group is available to visit our campus and share his knowledge with our graduates."
About 500 students are candidates for graduation next month, including about 200 master's degree candidates and several doctorate candidates.
During his career, Morial has been an entrepreneur, attorney, professor, state legislator and mayor of his hometown. As president and CEO of the National Urban League since 2003, he has been the key catalyst and change agent for the 105-year old civil rights organization, refocusing the organization's empowerment other communities of color, and rich and poor Americans.
During his National Urban League tenure, the league has had record financial success, raising over $280 million in five years.  The league has been recognized as a leading national nonprofit, and is highly rated by Charity Navigator, the nation's largest independent charity evaluator.  As a result, the league is among the top 10 percent of all U.S. charities for adhering to good governance and other best practices, as well as executing its mission in a fiscally responsible way.
His creativity has led to initiatives such as the Urban Youth Empowerment Program to assist young adults in securing sustainable jobs and Entrepreneurship Centers in 10 cities to help the growth of small businesses.  Morial helped create the Urban Empowerment Fund, a community development financial institution and small business loan fund.
As mayor of New Orleans, Morial was a popular chief executive with a broad multi-racial coalition who led New Orleans' 1990's renaissance and left office with a 70% approval rating.
A graduate of the University of Pennsylvania with a degree in Economics and African American Studies, he also holds a law degree from the Georgetown University Law Center in Washington, D.C., as well as numerous honorary degrees including Xavier University and Howard University.
Morial has been recognized as one of the 100 most influential Black Americans by Ebony Magazine, one of the Top 50 Nonprofit Executives by the Nonprofit Times, and one of the Top 100 Black Lawyers in America.
###