ARIZONA CARDINALS PICK GRAMBLING STATE WR
Baton Rouge native says he's ready to make things happen in Phoenix with the AFC team
By MINIYA SHABAZZ/GSU Media Bureau

Chad Williams was surrounded by family and friends on the couch at his aunt's house when he got The Call. When he hung up he excitedly said, "Arizona baby."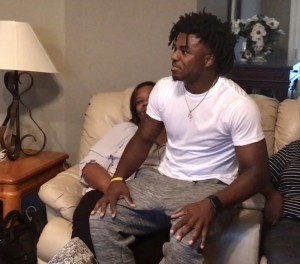 Grambling State University's Williams became the top HBCU player chosen in the NFL draft when the Arizona Cardinals called his name as the 98th pick in the third round.
"I wanted to go to Arizona. I like what they have going on and everything in between," said the 6-foot-1 Baton Rouge native.
He was named a second-team FCS All-American and first-team all-conference pick for the SWAC, catching 90 passes for 1,337 yards paired with 11 touchdowns. With a 35.5 vertical leap and dashing at 4.37 in the 40-yard dash, his head football coach said he would be a good bet, though others thought he was a long shot.
"Anytime you have a guy that catches over 2,000 yards and scores over 30 touchdowns in his career if you put that on anybody's back you're talking about a first-round draft pick," said Broderick Fobbs, who coaches the 2016 HBCU National Champions.
In 2015, Williams had 64 catches for 1,012 yards, 10 touchdowns, and was awarded first-team All-SWAC honors in 2015. In 2016, he helped lead the G-men GSU Tigers to a SWAC Championship and the HBCU National Championship.
The last GSU player to be drafted was defensive lineman Jason Hatcher, drafted by the Dallas Cowboys in 2006. Hatcher, who retired last year, surprised Williams with a call minutes after he was drafted.
"He's been a pro for all three years that he has been at Grambling State University," said Fobbs.
GSU quaterback DeVante Kincade said this is a moment they always talked about. "He always worked hard and brought the best out of everybody," he said while spending time with Williams at his aunt's home in Zachary, Louisiana, Friday night. "He pushes everybody to go harder because he was showing a good example by working hard."
Williams back that up after being drafted. Asked what's next he replied, "Go right back to work."
Fobbs remembers a special moment when Williams told former New Orleans Saints wide receiver Joe Horn at a Grambling State University convocation that he wanted to be where he was and he wanted to know what it took to get there.
"He's been a pro from the beginning," added Fobbs. "A lot of people think you become a pro athlete just after you get drafted. A pro is a person who does things a certain way and he has always been a pro when it came to playing the came to football."
His GSU supporters are expecting big things, and for good reason.
"I know he's going to dominate because they are going to underestimate him so when they underestimate him he's going to already have an advantage," stated Kincade.
Fobbs said he expects more Grambling State players to be chosen to play in the NFL, in part based on the performances of the Indianapolis Colt's Chester Rogers, who signed on last year as a free agent, and Williams, who was drafted.
"The state of the program is on his shoulders," he said.
###
Stephanie Lindsey contributed to this story.