TRIPLET BROTHERS MAKING A SCENE AT GSU
Winnfield's Wilson trio is believed to be first set of triplets on campus in recent history, memory
By MINIYA SHABAZZ/GSU Media Bureau
Got twins? That's nothing. Grambling State University has triplets.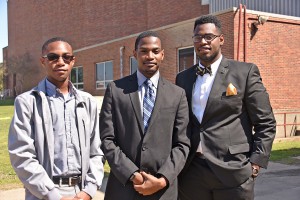 "It's awesome being a triplet. When you tell people you are triplets, it's like you are a celebrity. You're famous. They don't believe it until they see all three faces," said Stevie Wilson, the oldest triplet.
Stevie Wilson, Steven Wilson and Stephon Wilson are freshmen from Winnfield, Louisiana. At 19, they have become quite involved in the campus life at GSU. As they wrap up their first year, they are becoming more and more popular.
Ulrica Edwards, the university's director of institutional research, said Grambling State does not keep data about sibling sets, but she recalls seeing twins on campus three to four times in recent years. According to the Centers for Disease Control and Prevention, there were 3,871 triplets born in 2015. That means the Winnfield Wilsons are a bit rare.
"We decided to go to Grambling because our mother is an alumna and we have several family members all the way from the 1950s that attended Grambling, and we are next in line," said Stephon Wilson, the youngest by two minutes.
Stephon is a double major in business management and computer information systems. He loves to cook and started cooking in 2010. He is so good that he's been to various cooking competitions and he and his brother Steven went to compete in the Great American Seafood Cookoff in August 2016. They were given a $500 award. His favorite dish is blackened alligator with apple and bellini vinaigrette. He wants to own a restaurant or work with the federal government in computer information systems.
David "Rusty" Ponton, the interim vice president for student affairs, also known as Coach P, is pretty familiar with twins because his mother is one and he was born on their birthday. He said twins have been somewhat common at GSU, and he has seen them over the years many times. He can't remember ever seeing a set of triplets. "Its kind of unique and it's always an interesting story to see three young men all coming to the same place and they have different intentions on what they want to be in life," stated Ponton.
The triplets love to spend time together talking, going to the movies, vacationing, playing cards and mingling.
"It's fun because you're able to bond with your brothers.  No one wants to be lonesome and your brothers are like your friends," said Steven, the middle triplet.
People often can't believe the brothers are part of a set of triplets.
"We were at the nursing building and we were talking with Dr. Doris Williams and she didn't believe we were triplets. Once we came together, we took a picture together," said Stevie.
"I've had a chance to enjoy all three of them and they are triplets but they are totally different," said Ponton. "Just in how they react and how they see things. It's exciting and interesting to see these young men at the university."
Although Stevie and Steven are biology majors, they want to take different paths. Steven desires to be an anesthesiologist and Stevie wants to be a radiologist. They were born a minute apart.
Steven plays the piano, cooks, sings, and likes to play football. He served as the GSU Student Government Association freshman class president. He was elected freshman vice president in the fall but when the former president had to step down, Steven stepped up to the plate.  His favorite memory at GSU so far was when his brothers helped him campaign for freshman vice president.
Stevie loves to play alto and tenor saxophone in the World Famed Tiger Marching Band. In late April, he was inducted into Alpha Lambda Delta, a freshman honor society. His favorite memory was when the G-Men football team won the Bayou Classic against Southern University in New Orleans. "It's such great rivalry between two HBCUs, and it's a really awesome to experience something like that," said Stevie.
Their mom, D'Juana Wilson, and her husband, Stevie Wilson, went in for a sonogram at three months and discovered there were triplets in her uterus. The triplets were born at 36 weeks and although the parents were overwhelmed at first, they received a lot of family support.
"Without family I don't think we could've made it," said D'Juana Wilson.
A computer science major when she attended Grambling, the triplets' mom reflects on what her sons going to her alma mater means to her. "I have great pride and it's an awesome feeling that they wanted to follow my footsteps," she said.
###