LEADERS TO GRADS: GIVE BACK MONEY, TIME, TALENT
Grambling State graduates told they must start giving immediately as an obligation
By WILL SUTTON/GSU Media Bureau
Grambling State University's hundreds of graduates got a double dose of encouragement to support their alma mater. Thurgood Marshall College Fund President and CEO Johnny C. Taylor Jr. and Grambling University National Alumni Association President Russell LeDay each encouraged the new grads to support dear ole Grambling with talent, time and money.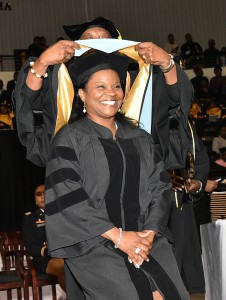 LeDay led the graduating class in an oath to actively support GSU and to be a part of the Grambling University National Alumni Association. They stood. Even class valedictorian Sha Drake stood on the main stage. They repeated the alumni pledge, just as LeDay requested during the annual commencement program at the Fredrick C. Hobdy Assembly Center on campus.
Taylor went beyond a pledge, imploring them that they are obliged to help their alma mater.
"You must give something back to this institution. You must," Taylor told the grads. "Trust me, whatever you paid didn't cover the cost of your education….Some say, 'I don't make a lot of money' Then don't give a lot of money. Give something, though."
Taylor, who regularly seeks funding to support College Fund member institutions, said he asks billionaires and major corporations for a lot of money – and they have a question for him: "When I go out to funders and ask them for money, do you know the first thing they ask me? What's the alumni giving rate." That is a big reason they must give, he said.
GSU President Rick Gallot proudly congratulated each graduate as they crossed the stage, and Provost and Vice President for Academic Affairs Ellen Smiley did the same, hugging several of them, especially members of the Earl Lester Cole Honors College she leads.
"It was the manifestation of why we exist, and that is the completion of these programs with the awarding of the degrees," said Gallot. "We're excited to send our graduates out into the world to make a difference, and we're very much focused on recruiting new students to begin their journeys with us as well."
Hundreds of graduates were on th floor of the
The graduation was special for all of the graduates, including 292 receiving bachelor's degrees, four receiving doctoral degrees and 173 receiving master's degree, a record number in recent GSU history.
Gloria George, a Louisiana Delta Community College student success services specialist who called graduates' names as they walked across the stage when she was working at Grambling State had her own name called as she received her doctorate. In the audience, dressed in a gold robe, was her mother, Joyce George, attending as a member of the 50th year class reunion group. The elder George, 72, retired after serving 36 years with the Caddo Parish School System as a master teacher and elementary curriculum coordinator. She insisted that the younger George, now 41, be better than average as a young student, and she's done that. She's spent 16 years in higher education and with Mary Kay, balancing her job as a Mary Kay team leader in middle management with her other duties, hour by hour.
"One of the greatest keys to success is having a strong spiritual foundation. There were times on this journey that all I had was my faith in God and belief in His promises," said Gloria George. "He will give you the grace, peace and strength to finish strong."
Miloni Perera works in the university's service learning department, helping students gain valuable academic and community service experience as students to prepare them to be productive citizens after graduation. While doing her job, she was taking classes, and she graduated with a master's in public administration with a human resources concentration. Her husband, Amila De Silva graduated with a bachelor's in computer science. She earned a 4.0 GPA; he, a 3.9.
Drake was quite the example during her tenure at GSU. She went to class, studied, worked as a student librarian and she was a star hurdler on the school track and field team. With all of that, she earned a 4.0 GPA and was presented as the class val Friday morning. "I missed a lot of activities to do what I needed to do to be successful," said Drake, a native of Meridian, Mississippi, heading to the prestigious Chicago School of Psychology graduate program at Xavier University in New Orleans this fall.
One of the highlights was the NFL's Chester Rogers, a wide receiver with the Indianapolis Colts, returning to walk across the stage and graduate in front of his parents and family who traveled for the moment from Huntsville, Alabama. "It was a special moment, a once-in-the-lifetime moment," said Rogers, who earned a bachelor's in business management.