FORGOTTEN CATFISH PONDS, TRAILS, COMING BACK TO LIFE
Area beyond athletics complex is returning from an overgrown field and ponds to an educational and recreational space
By SARAH-RENEE GARNER/GSU Media Bureau
A short walk from the Fredrick C. Hobdy Assembly Center, down a dirt road, beyond the Grambling State University facilities headquarters building, and Richmond Hall is one of about 20 ponds and a wooded area that's been closed to the campus community and the public for years.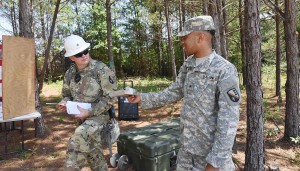 Behind a locked gate, is a large area with several catfish ponds and a place that was once used for socializing, fishing, and education.
Many students and residents may not have seen the area, but it's recently been cleared and renovated into a place students and community members can enjoy once again.
"My childhood home is probably 300 yards from the catfish ponds," said GSU President Rick Gallot. "I can recall when all of that was developed and built because all of that used to be a farm. Grambling used to operate a farm out there. So, some of my first memories are seeing that area being developed along with the walking trails."
The $250,000 project, primarily funded by the Louisiana Army National Guard, will provide 15 acres for additional tailgating space for fall football games as the athletics complex grows, a place for academics with a focus on environmental research, and a safe place for recreational activities. The project started in early May and is scheduled to wrap up soon.
Payne Montgomery supervised the area among his many duties when he worked at GSU until his retirement about 15 years ago. He remembers the area fondly as a place that he and others worked with students, and he's happy to see it being used again.
He said the Grambling Young Adult Conservation Corp program was created to use the area as a park with nature trails and general campus beautification as a way of attracting people to the campus and getting students interested in GSU.
Marc Newman, GSU vice president of institutional advancement, said the project has been in the works for a few years, and the effort got underway recently when everything came together. "It is more than just a tailgating space," said Newman, who said the university is paying about $20,000 for fuel and some limited expenses. "This is an academic, community-related, and historical project. It impacts the community because families will once again be able to use the area. Educationally, it is a perfect area for environmental programs to research. Tailgating is an afterthought; the community and students are first."
National Guard Maj. Joshua Culp said the project is mutually beneficial because the soldiers get real experience operating heavy equipment on a regular basis for longer periods of time than during training exercises. "The soldiers become proficient by getting to operate the equipment and then by having qualified leaders train them," he said. "Our soldiers are operating some extremely technical equipment and without projects like this one, their learning curve could take longer."
Capt. Antonio Tims, the Guard company commander for the work unit, is working with 15 men, including a couple of sergeants first class, a sergeant and specialists. The university has made the project easier by housing the soldiers at West Campus and providing meals in McCall Dining Hall with Aramark to eliminate travel to and from home. The project is taking a little longer than expected because of inclement weather, but Tims said it shouldn't be much longer.
"Due to the rain, we haven't been able to go to the site and work," he said. "We are getting started again as soon as we can, and as soon as the land permits it."
The project is exciting to Gallot, who used the area in his younger days and plans to use it again when it's ready.
"To see us bringing growth back to life, is extremely exciting… It gives community people some where they can gather and engage in good, wholesome, familial activities."
###