GSU LEADER NAMED NURSE OF THE YEAR IN MISSISSIPPI
Natchez native Brown leads nursing at Grambling State, training students to be compassionate health care practitioners
 By YA'LISHA LASHAE' GATEWOOD/GSU Media Bureau
Grambling State University's Meg Brown has been named the 2017 Nurse of the Year by the Eliza Pillars Registered Nurses of Mississippi.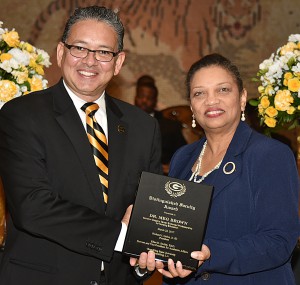 Eliza Farish Pillars was the first African American woman to work for the Mississippi department of health in 1926. The nursing organization is noted for health care efforts and helping nurses in Mississippi.
"Dr. Meg Brown is a born leader who promotes excellence at all levels.  We are elated that others have recognized what Grambling State University has known for some time now.  Dr. Meg Brown is an eminent scholar practitioner who continues to makes a unique and substantial impact on society," says Ellen Smiley, provost and vice president for academic affairs at Grambling State University.
Brown is a native of Natchez, Mississippi. She obtained an undergraduate degree in nursing from Alcorn State University, a nursing master's from Northwestern State University in Louisiana and a Doctorate of Philosophy nursing degree from Southern University and A&M College in Baton Rouge, Louisiana. She has over 35 years of practice as a registered nurse, including 15 years in academia. She has served in several administrative positions in clinical practice and at universities. Brown maintains certification as a board-certified adult health clinical nurse specialist. She is associate dean and an associate professor of nursing at Grambling State.
Before becoming a nurse, Brown had plans to be a veterinarian but she couldn't deal with reptiles. She decided to live her dream as an interior decorator, but an uncle convinced her to become a nurse, assuring her it was her calling. "The decision to become a nurse has been fulfilling and provided me with several career opportunities," says Brown.
She said becoming a great nurse takes skill and dedication. "The consistent usage of caring behaviors — comforting, nonjudgmental, listening, supportive and being unhurried — along with strong clinical reasoning skills" make the difference, says Brown.
Brown, who has been leading GSU's efforts to start a new undergraduate nursing program at the school, says what she would like future nursing students to be receptive to learning and instruction while having "a commitment to doing what is required, and have compassion."
###