LA GEAR-UP CAMPS BEGIN AT GSU
"Spotlight on STEAM" is theme
By Collin B. Jno-Finn/ GSU Media Bureau
Middle school students from around Louisiana are guests of Grambling State University for a week-long camp that seeks to impart practical academic knowledge and skills in preparation for their college journey.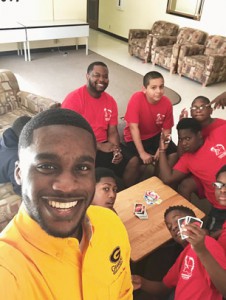 The LA Gear-Up camp is being held under the theme "SOS – Spotlight on STEAM," and will engage students in science, technology, English, ACT prep and mathematics.
The primary focus of Louisiana Gaining Early Awareness and Readiness for Undergraduate Programs is to "prepare students to be in post-secondary institutions and to succeed there," said Tireka Cobb, director of Field Outreach Services for LA Gear-Up.