GSU BOOSTS BUSINESS WITH OVER 100 COMPUTERS THROUGH WISE FUND
Business majors can ramp up tech skills for high-demand jobs with infusion of state support
By Stephanie Lindsey/ GSU Media Bureau
Grambling State University's College of Business is the proud recipient of a much needed technology upgrade. The COB is currently installing an excess of 100 Dell computers to replace old ones in three labs in the Jacob T. Stewart building.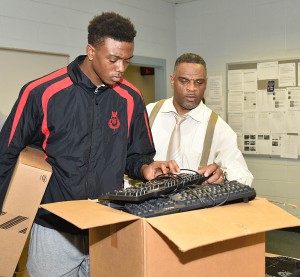 The upgrade was funded by Louisiana's Workforce and Innovation for a Stronger Economy Fund or WISE fund. The WISE Fund was created in 2014 by the Louisiana Legislature "to provide an incentive for postsecondary educational institutions to increase the production of certificates, diplomas, and degrees in fields of high demand by Louisiana employers, and to spur additional research and innovation as a meaningful way of supporting economic development," according to the fund's web site.
The computer labs are only available to students of the College of Business's two STEM majors, accounting and computer information systems. However, all of the students in the college are required to take at least two courses in each.
Grambling's College of Business applied for the funding as a way to help its STEM students remain on the cutting edge of technology.
"It is our goal to make sure that our students and faculty have state of the art technology available to assist with the facilitation of learning in all areas, said Grambling's Provost Dr. Ellen Smiley This is especially necessary for our college of business, computer science department and engineering technology department."
Donald White, interim dean of the College of Business, and Kevin Sly, a computer information systems professor, acknowledge that there is a skills-gap along the I-20 corridor and that the new computers will allow students coming from Grambling to be competitive in the Northern Louisiana job force.
White points out that "this is an initiative to help prepare and produce those people who could actually fill those positions from Monroe to Shreveport. There are unfilled positions right now because of unqualified workers in the STEM area."
Sly, in agreement with White, notes that there are thousands of jobs along the I-20 corridor that students from the college of business could be qualified for. "We are trying to make sure that our students are where they need to be in terms of technology so they can get these jobs. So they don't have to go to Dallas or D.C. or Atlanta."
Both White and Sly believe it couldn't be happening at a better time.
"We've had the old computers for a long long time, said White, they move very slowly and we get a lot of complaints from students and faculty and it was time for a change. This is a God send for us," said White.
The new computers are faster and smaller which helps to cut down on the heat in the labs and reduces the space used. "Our labs will be all new by the fall. I'm excited for the new students coming in," added Sly.
The computers were not the sole mission for the College of Business but rather a piece in a much larger project. "We just have to get more on the cutting edge. But obviously we need the technology, physical resources, as well as the human capitol to go where we need to go. As far as getting our students ready to participate on a much larger scale we first must train them. In order to train them we need the necessary wherewithal to get that done," said White.
The students are also seeing the benefits of the new computers. The upgrades mean new and better programs for them to master. Marquis Gaydun is a junior majoring in business management and one of the student's benefiting from the new computers. "Mr. Sly introduced us to Developer, a program that we can use to take normal slides and presentations and make them more dynamic.
Sly believes that his students are on their way to promising careers thanks to the upgrades. Through power-point graphic design programs like Developer and Visual Basic the students are becoming experts in their field. The department has already created, defined, and set a base salary expectation between $50,000 and $70,00 for students when they graduate. "We call them Advanced Graphics Presentation Designers. What we want to do at Grambling is develop a team of advanced graphic designers to go out and redo the way we do slide presentations. We turn PowerPoint presentations into seamless dynamic presentations. It is a revolutionary idea," said Sly
"This is a new day for us, added White, "and we are happy to see it, simply because it is necessary for us to move forward to bigger and better things."
###