GSU DOES NOT INCREASE STUDENT FEES
Gallot says Grambling State students should not face additional charges
By GSU Media Bureau
Grambling State University President Rick Gallot has decided to opt out of the state legislature-approved fee increase authorizations, saying GSU students should not bear additional financial responsibility for their education.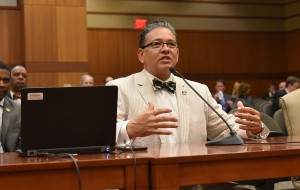 "As a longtime state legislator, I understand well the competing challenges the governor and state legislators dealt with as they worked to find a reasonable state budget for the new fiscal year starting July 1," said Gallot. "But I know that our students should not be burdened with additional costs as many of them struggle to stay in school. We need more of them to stay in school, and we need more students to decide to attend Grambling State. Additional fees might hurt those decisions."
Gallot said he has confidence that the university's alumni, business and corporate friends and stakeholders will continue to contribute to the institution so the institution can keep student fees reasonable as a part of encouraging more students to stay in school while attracting more students to choose GSU.
"We have an important fundraising campaign launching soon, and we need everyone who says they love GSU and bleed black and gold to support this effort," he said. "This is just one example why we need ongoing support. In the end, this is about supporting our students and making our beloved institution stronger and stronger."
In a special meeting of the Executive Committee, the Board of Supervisors for the University of Louisiana System approved fee changes for its nine universities Friday afternoon. The average increase of less than three percent is the lowest fee increase in a decade for the more than 90,000 students served by the state's largest system of higher education.
"With the budget stability afforded to us by the legislature and our governor, in addition to the full funding of TOPS, our universities were able to minimize cost increases on our students," UL System President and CEO Jim Henderson said. "We will continue to work with our state's leadership to obtain a stable and significant investment in higher education."
Grambling State University and the University of New Orleans chose not to implement fee increases. The remaining seven universities' increases range from $98 to $212.
"Higher education has evolved into a competitive enterprise," Henderson said. "While any increase in cost is significant to students, the average increase of $108 will provide valuable services in the classroom. Now, we must aggressively pursue a state policy environment and institutional cultures that ensure our universities are able to maximize the value received by our students."
The ULS changes only apply to fees; tuition costs remain stable across the system.
Adarian Williams, GSU's student government association president, said he is happy to hear that his school won't be increasing student fees.
"I support President Gallot's decision to opt GSU out …" he said. "I agree with his decision because such an increase can have a huge impact on our students, resulting in a decline in college enrollment, a delay in graduation time, a fall in student and academic performance and ultimately increase the dropout rate."
###