KIDS LEARN ABOUT LEADERSHIP, LIFE AT GSU
Aiden, of Rayne, visits communications, decides to attend Grambling State
 By AIDEN SWANSON/Special to the GSU Media Bureau
Rick Gallot is the president of Grambling State University. He is a great president, and he loves his job. "I love it," he said.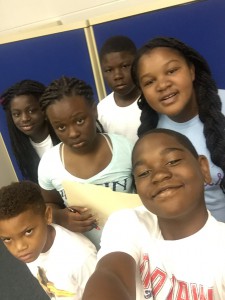 Gallot, originally of Grambling, looks for good leaders who are interested in building a team to get the job done. He is not afraid to speak up and let people know that he has been a good president since he started August 1, 2016.
As a part of The Provost Leadership Camp at GSU, I spent time with Will Sutton, director of communications, and I met the president, a dean and several university leaders during a day of shadowing. We are learning about leadership and how leaders can help and not hurt people, that some people are very helpful and some are    not. We are learning that leadership is when someone cares about what they are doing and caring about the people who work with them. We are working with Dr. Ellen Smiley, Mr. Jason Knight, Dr. Rory Bedford, Mr. Prentiss Smiley and Ms. Shadavalyn Hackney in the Office of Service Learning and Continuing Education.  The sponsor of the program is the Earl Lester Cole Honors College.
Each of us has a leadership mentor. GSU Business College interim dean Donald White is being shadowed by Tayton Webster, 8, of Grambling, Louisiana; business school professor Kevin Sly is being followed by Leah McDowell, 11, of Rayne, Louisiana; Title III Executive Director Beverly Hill-Hercules is mentoring Ryan Washington, 10, of Rayne, Louisiana; Chief Operating Officer Martin Lemelle has Demetria McCone, 12, of Arcadia, Louisiana, as a mentee; Distance Learning Director Eldrie Hamilton has Darian Savoy, 11, of Rayne, Louisiana, as a shadow.
Smiley said she started this year's leadership camp because her son, Prentiss, a senior at the university, attended a similar GSU program when he was young and it inspired him to be an entrepreneur. She has not forgotten about others and she wants other kids to find leadership, passion and dreams.
The program has been very inspiring and I want to go to Grambling State when I grow up.
Swanson, 10, of Rayne, Louisiana, is a rising sixth grader at Armstrong Middle School. He plans to take enrichment classes and become a member of the 4-H Club. He would like to be an artist so he can draw and paint when he grows up.
###