GSU HIGH SCHOOL BAND CAMPERS PERFORM THIS WEEKEND
"Mini World Famed" musicians provide free concert, marching performances on Grambling State campus
By REAGAN HIGGINS/GSU Media Bureau
Grambling State University's summer high school band camp ends this weekend with two performances as the students share the musical skills they learned this week with band directors and members of the World Famed Tiger Marching Band. Both performances are free.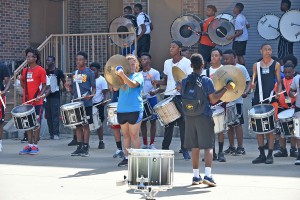 About 170 middle school and high school students from northern Louisiana, southern Louisiana, Houston, Dallas, Chicago, New York City, San Francisco and elsewhere have spent a week learning music fundamentals or enhancing their musical skills and music technique with Larry Pannell, GSU's director of bands, and a team of band directors, and experienced band members. Students have engaged in three distinctive styles of music — marching band, jazz band and concert band.
"It's been a camp that's been just full of excitement," said Larry Pannell, GSU director of bands. "The kids have been very energetic,…"
The first of two performances is today (July 14) with a concert at 7 p.m. in the Conrad Hutchison Performing Arts Center near the Robinson Stadium Support building and the Eddie G. Robinson Memorial Stadium. The first half of the performance will feature the high school band camp beginner, intermediate, and jazz band units.
The second closing program is a marching band performance Saturday (July 15) at 10 a.m. in the Hutchinson PAC parking lot, near the football practice field and the intramural basketball courts. The high school marching band event will feature drum majors, the drumline, dance units and flag and ensemble twirling.
"The crowd should come out and see the Grambling style that has been taught to these campers," added Pannell. "We know the style is heading back to San Francisco. We know that the style is heading back to New York City and Chicago.
"That is what we want the crowd to see, that you are coming to see the World Famed (style) being taught and carried back all over the world."
###