GSU PRESIDENT TAKES STUDENT FOR A SPIN TO CLASS
Gallot drives transfer student from dorm to class, visits several classrooms on first day of fall semester classes
By WILL SUTTON, GSU Media Bureau
It was the first day of class for Jasmine Harris, and it was an extra special day.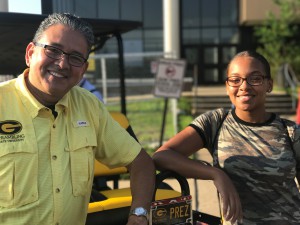 For the first time in her life, Harris, 18, rode in a golf cart – and it was the Grambling State University presidential golf cart. It wasn't what she expected on her first full day of class at Grambling State University, but she was pleasantly surprised that she was chosen by President Rick Gallot as he fulfilled a promise to take a lucky student to their first class of the day on the first day of class for the fall semester.
"My experience with the president was delightful," Harris said in an interview after a full day of classes. "I enjoyed being able to wave at students and have them associate me with him, to be able to be in the atmosphere of family. He treated me like I was his own."
Gallot, entering his second year as GSU's 10th president, told a reporter a few weeks ago that his school was still accepting student applications from high school graduates and transfer students, and he said, "Who knows, I may even give you a ride to class on your first day."
The president was up early and working in his office on the first floor of Long-Jones Hall until it was time to go outside, get in his cart and drive to pick up a previously unidentified student. It didn't take Gallot long. He drove a short few yards to Jewett Hall, walked up the steps, met Harris in the dorm lobby, walked her to his black-and-gold golf cart and whisked her away.
Once at Jacob T. Stewart Hall, Gallot walked Harris to the front door, down the hall and to her class, where her teacher, Marcus Davis, greeted her and her classmates were surprised to see Gallot escorting a student to their class.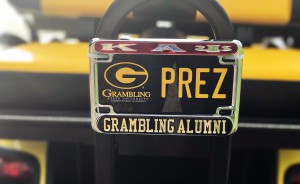 "As it turns out, the young lady we did give a ride to is a transfer student who hadn't applied yet, so it all worked out great," added the president, who drove the Washington, D.C., native to her 8 a.m. sociology class with Marcus Davis. "One thing that I think is important is a man's word is his bond, and I said I would take a student to class on the first day and I did it."
Harris, a transfer student from Bowie State University, enjoyed the attention, and the ride, though it was a little rocky compared to riding in cars. "It was scary pulling off because it kinda jerks when it pulls off, and there are no seat belts," she said. "I just had to grab onto the handle to my right….I was going up and down …and it was fun."
She received a lot of looks and waves as she rode with the president, and even later in the day.
"The experience was eye-opening….People were really excited for me to be on the cart," she said. "Random people on the street were saying, 'Hey, girl, congrats. You're in the cart with the president.'"
It was one of several classroom visits Gallot made, stopping in Brown Hall, T. L. James Hall and Carver Hall to visit faculty and students. For Gallot, it was a little like his former days as a politician, making lots of stops in the same day, bringing greetings, shaking hands, giving pats on backs and offering warm wishes as he moved from class to class. At each classroom told faculty how much they appreciated what they were doing, teaching GSU students, and thanked students for selecting Grambling State.
He did solicit one promise during each stop: Strive to earn all A's.
Fall 2017 First Day of Class Photo Gallery

Fall 2017 Eclipse Photo Gallery

Additional Photos/Galleries: https://www.flickr.com/photos/gramblingstateuniv/albums