GSU CUTS TREES, INCREASES SAFETY AND REVENUE
Facilities director sees tailgating improvements, cabins and a pavilion in the future
By SARAH-RENEE GARNER/GSU Media Bureau
Lots of trees are coming down on campus, and it is intentional.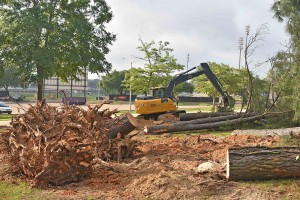 As a part of a campus-wide beautification effort, Grambling State University has had scores of trees cut down to better manage the woodlands, to make campus safer and to make it more community oriented, said Frederick Carr, the director of facilities.
As students return for fall classes, they may notice fewer trees in some key places. Trees have been thinned a mile or so down the road from the Subway, the areas by the catfish and fish ponds, the area behind the Conrad Hutchinson Performing Arts Center, the trees by the Judicial Affairs office and a few miles away on GSU's West Campus.
Grambling State University has hired Halley Timber Company, Inc., of Farmerville, Louisiana. Halley employees are trained to help customers with timber cutting, timber thinning, land management and timber harvesting. GSU hired them to harvest their timber, and to then help them sell the timber for profit.
"We did this mainly because it needed to be done," said Carr, who added that some of the trees were dead or unhealthy trees and others just needed space. "It gets rid of the wild growth, and now the trees will be able to grow better."
He said the clearing "will make managing the land easier, which will make keeping up with the campus a lot less expensive."
Meanwhile, Carr likes that the university is seeing some financial gain from the project. "When you cut trees down and start to sell them commercially, they are measured by the ton," said Carr. "The more tons that you have, and the better the quality of the tree is, the more money that you will receive for the ton." He said Grambling State has harvested more than 200 tons of timber since June.
Once more work is done in the area of the facilities building and along the road leading to the fish ponds not far from RWE Jones, there will be a large space for fans to tailgate when they visit during football season. Carr has an idea that would entice some fans to come early or stay longer once games have ended.
"What would really be great is if we had a pavilion with restroom facilities, water, and we could even put cabins out here that people can come rent over the weekend during home games," he said. "We can also use the cabins for family reunions or camps that people need space for the off season."
Linwood Banks, 21, a junior business management major from Alexandria, Louisiana, knew very little about the project, but was happy to hear about how it's coming along. Banks, a defensive lineman for GSU's football team said it is good for the team and all students.
"I know that there are a lot of people that want to see us play," said Banks. "This allows more people to be able to come and watch us, which brings in more money, which makes our school better. It's a win-win situation."
###