GSU STUDENTS HELP HURRICANE HARVEY VICTIMS
Student government, student union, Houston and other Grambling State students
work to aid families, friends in need
By SARAH-RENEE GARNER / GSU Media Bureau
Grambling State University students are going door to door in campus dorms this week, and not to just visit. These students are seeking donations to help victims of Hurricane Harvey.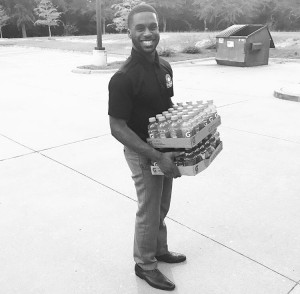 When news spread about Harvey's devastating winds and flooding in Houston and southeast Texas, several GSU students decided they had to help. About three percent of the school's students are from the Houston area, and some of their families have been hurt. GSU Student Government Association President Adarian Williams was on the phone and meeting with Grambling State students as he discussed options with student leaders from across the University of Louisiana system of nine institutions.
"This initiative allows our administration, faculty, staff, student, and citizens of the surrounding areas to donate non-perishable food items, toiletries, clothing and other items needed to assist those during this difficult time," said Williams. "We would like to thank the donors who have given kindheartedly and extensively to ensure that the affected areas are restored following Hurricane Harvey."
Williams worked with Jimmitriv Roberson, Miss Grambling State University; Ja'Mariea Miller, Miss Cover Girl; Morilyn Fontenot, president of the Favrot Student Union Board and other students to quickly develop a campus-wide food and supply drive. Student leaders are picking up donations at dorms, and students and community members can drop off donations at the Favrot Student Union's Tiger Den from 8 a.m. to 5 p.m., and at the Tiger Express from 10 a.m. to 10 p.m.
Students Veronica Sanders and Jeffery Harris, both Houston, Texas, natives said they were extremely emotional about the state of their city. The storm and its aftermath had a direct impact on Harris, who said he knows his life will be changed though his family asked him not to worry while at school.
"I remember hearing the stress and hurt in my mother's tone as she spoke to tell me they were packing to leave. I could remember hearing the same in my grandmother's voice as she would tell me, 'Everything is going to be alright,'" said Harris.
Though he's concerned about his own family, Harris said it is important that he be a part of gathering donations to help Houstonians and others.
"Hurricane Harvey has affected my family tremendously and it has destroyed our home, car, and washed away our hard-earned belongings," he said. "Personally, it is a battle everyday trying to cope with the fact of losing so much, but I do manage because I depend on the word of God … I'm rejoicing that my family's lives are not lost. God spared them. For that I am eternally thankful."
Sanders' family was more fortunate, but she is heartbroken about what she sees happening back at home. "One moment everything in my city was fine and then in the next breath I look up, scroll on social media, and my friends are tweeting that they need to be rescued," said Sanders. "Although my immediate family was not directly affected at all by the hurricane, I still was in a state of shock and remorse for a day or two…"
Williams, a member of the Universities of Louisiana Student Advisory Council and a member of the Louisiana Board of Regents, worked with system SGA leaders as he worked with GSU campus leaders and students. He helped decide what the system would do and assisted with the drafting of a statement. The council agreed to host a fundraising drive for Hurricane Harvey relief during three intersystem football games this weekend. According to a news release, funds raised "will be placed in the University of Louisiana System Foundation's Hurricane Harvey Relief Fund and distributed to impacted students in the Houston area."
"The human spirit really comes alive in the midst of disaster and with on of the largest university systems in the nation, it only makes sense to come together for our neighbors in Texas," UL System Board Member and Louisiana Tech SGA President Ben Rice said in the release. "Louisiana has felt the pain of disaster and this is the perfect opportunity to pay it forward."
In an interview, Williams added, "The time is now that we work together to exemplify that we are one, and that we are here to help."
###