ELITE GROUP OF GSU STUDENTS INDUCTED INTO SLI
Select group of freshmen chosen for President's Student Leadership Initiative,
program with special benefits
By JASMINE HARRIS/GSU Media Bureau
On Thursday night, Green welcomed a third cohort of President's Student Leadership Initiative members, including 24 young men and 29 young women with majors ranging from kinesiology to mass communication.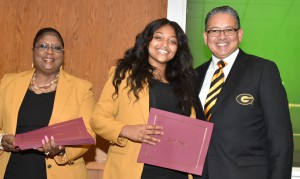 During an evening program in the Betty E. Smith Nursing Building auditorium, the new SLI members were greeted by SLI members from the first and second cohorts and challenged by State Rep. Patrick O. Jefferson. ""Life is about choices… Be unique," he told the group. Jefferson urged the class to "embrace and appreciate the reality of this minute" and he challenged them to do the most with what they have been given.
The new SLI members were excited about becoming a part of something special. Members have the opportunity to travel to conferences and meetings, and all SLI members wear spiffy gold jackets.
"I wanted to be a part of SLI for the networking and to strengthen my leadership skills for the future," said inductee Ashley Dabney, a business management major from Gainesville, Georgia. "I'm looking forward to empowerment sessions and team building with other SLI members, past and current inductees."
SLI members acquire a multitude of skills including enhanced decision making, improving study skills, improving critical thinking, exploring diversity, managing conflict, managing wealth and achieving set goals.
As the inductees entered the auditorium to take their seats, they were met by some quiet, polite cheering from the crowd. Current SLI members filtered in behind them. "The other students and faculty meeting that are a part of SLI made me feel a part of something special!" said Deshantey Coleman, 24, a visual and performing arts major with a minor in mass communication from Tallulah, Louisiana.
The new SLI group members enjoyed the event, and they're looking forward to actively participating in the program.
"The guest speaker we had was incredibly amazing!" said Coleman, "Definitely one of the proudest moments of my life!"
###