GSU HONORS COLLEGE WELCOMES NEW CLASS
By GSU Media Bureau
The Earl Lester Cole Honors College at Grambling State University inducted 50 students in ceremonies Monday at the Black and Gold Room of the Favrot Student Union.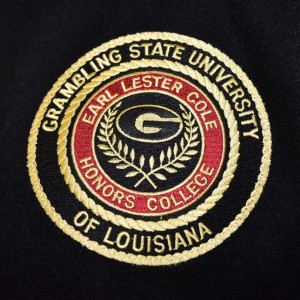 Former President Prentiss C. Smiley, a senior, computer information systems and history major, spoke to inductees about their responsibilities as students, saying "Every student at Grambling State University is an inspiring masterpiece that has been placed here for purpose. Your grades are a reflection of your university. And as you attend games and other events, enjoy these activities to the fullest; however, it is important to realize that we are students first and our focus must be on our future that is rooted in our academic foundation."
SGA President Adarian Williams, also an inductee, encouraged students along similar lines. "Academics is the top key. Do your work in the classroom and everything else will follow."
The Honors College was named after Earl Lester Cole, who began his tenure at Grambling in 1936 as a science teacher and was appointed vice president in 1969. He was affectionately called "Dean Cole," even after he assumed the vice presidency.
He is remembered for his active involvement in implementing curriculum, which is considered to be the cornerstone to courses still being offered at Grambling. Even after his retirement in 1977, Cole remained active at GSU and continued to advise members of the faculty and administrators. He passed away at the age of 89.
Academic requirements for the Honors College are a 3.5 cumulative grade point average.
This year marked the 28th induction ceremony for the Honors College.
###