DALLAS CHAPTER WELCOMES TIGER FANS
GUNAA-Dallas has a host of events hosting in town, out-of-town Gramblinites
for State Fair Classic Weekend
By JASMINE HARRIS/GSU Media Bureau
The GUNAA Dallas Alumni Chapter of Grambling State University is hosting several events during the 2017 State Fair Classic this weekend to bring GSU alumni, fans and friends together for a good time and to support the university.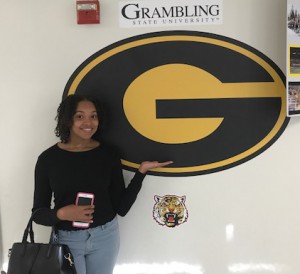 Cathy Conwright, vice president of the Grambling University National Alumni Association and first vice president with the Dallas chapter, said the weekend of events helps strengthen the university's presence in the community, helps alumni bond and introduces the institution to school students as GSU ambassadors and the royal court visit area schools.
The chapter is hosting a Friday night "Welcome Soiree" at the Hilton Anatole Hotel in the presidential "Hospitality" Suite at 7 p.m. Fans in town for the game are welcome to attend the free event.
There's a "Battle of the High School Bands" Saturday at 8 a.m at Lancaster High School in Lancaster, Texas. Tickets at the gate are $15. High school bands will compete for the right to strut their stuff with high school cheer squads during a pre-game show at the classic game featuring GSU and Prairie View A&M University at the Cotton Bowl at the State Fairgrounds in Dallas.
"They are excited that they get to play on the cotton bowl field and do it up big. It's also a huge fundraiser for our chapter," said Conwright. "Just a few years ago being the cheerleader that I am, I added the cheerleading competition to the mix. So now there is the battle of the bands and cheerleading. Both of those competitions take place on the same day. And they go at it. They bring it."
The big game kicks off at 4 p.m. Thousands of GSU and Prairie View fans are expected to stroll through the fairgrounds before the game before they enjoy the gridiron action.
When the game is over, the chapter is hosting a Saturday night "Victory Turn Up" at the "Gossip Bar" at the Hilton Anatole Hotel'd first floor, Tower Side, at 9 p.m. The event is free for people attending the game.
"Grambling State has been involved in the State Fair Classic since 1985. This is just what we do," said Conwright. "We've been hosting these events for more than 20 years if you can believe it."
###