ARAMARK PROVIDES FREE SNACKS FOR STUDENTS
By Reagan Higgins/GSU Media Bureau
Grambling State University students will receive free carryout snacks courtesy of Aramark today (Nov. 29) between 2 p.m.-4:30 p.m. at McCall Hall, or "the Cafe" as students call it, where a lot of on-campus students eat.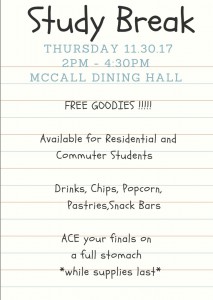 It's the GSU reading period today and Friday, just before final exams next week. Students are already crowding the academic buildings, studying, writing final project papers and otherwise finishing the semester. Some students don't have access to snacks and beverages during this time, and Aramark wants to encourage students by providing a snack option to encourage them to do well, according to Karen Ashford, Aramark's interim food service director.
Ashford said the café will provide popcorn, snack mix, muffins, cereal bars, chips and soft drinks during this special snack break event.
She said Aramark is consistently improving for the students and offering their services so students can succeed, offering a comfortable environment and snacks so students can leave motivated and rejuvenated to end the semester strong.