GSU VIDEO WINNERS WALK AWAY WITH THE $2,000 SCHOLARSHIP AWARD
Students from California and Texas win first place contest with a creative, student-focused look at Grambling State
By Stephanie Lindsey/GSU Media Bureau
This year's Grambling State University Student Recruitment Video Contest urged students to address the theme "Why I Chose GSU." Several student teams submitted videos showcasing love for GSU.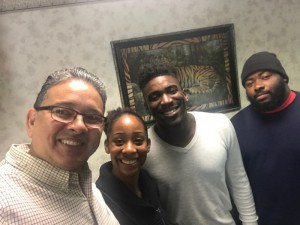 Coming out on top and earning the first place $2,000 scholarship aware were mass communication majors Nia Pressley, Rannie McCaston and Brian Nichols.
Pressley, 25, a junior from Los Angeles, California, and McCaston, 25, a junior from Houston, Texas, creatively listed the benefits of attending Grambling, including how being a Grambling State student has a positive impact on lives and why GSU is a great place to go to college. They produced, directed and edited the video, and Nichols shot some of the video.
GSU President Rick Gallot started the contest in the first few weeks of his first year in office, early in the 2016-2017 academic year, as a way for students to promote GSU. The student videos are used to bring a more student-centered focus to some of the university's recruiting efforts. Representatives from the university admissions, GSU TV Center and university communications judged the entries.
"Initially I was entering the contest alone," said Pressley, explaining how she ended up teaming with McCaston. "Rannie approached me about the video and I agreed that working together would be beneficial. I was skeptical at first because I wasn't sure if the ideas I had for the video would work well with whatever he had in mind, but we worked well together."
"In my mind I'm all about forward, innovative thinking and breaking the norm. I went into the contest with people I felt would fit that vision," added McCaston. "I reached out to Nia Pressley to assist with whatever she saw fit for the production creatively."
Pressley and McCaston were overjoyed when they were informed that they had won the grand prize, a $2,000 scholarship.
"When I learned we won, I screamed; literally. I just screamed and screamed. I was so happy that our hard work paid off and that we did it!" said Pressley. "Winning first place for the contest validated the progress of everything I've done since I bought my camera," added McCaston.
Second place winner Se'Dashia Thornton has been awarded a $1,000 scholarship.  The third-place winners, Mionne Destiny Featherstone and Ashirah Simpson, will share a $500 scholarship.
President Gallot remarked, "The creativity of these winners highlights how talented our students are here at Grambling State University. I congratulate these winners for delivering  fresh ideas we can use to promote our institution," he said. "I congratulate the team on a great creative effort, and the other student winners as well. Their perspectives will resonate with future Gramblinites and show them a few  of the many reasons why GSU is an excellent choice for college."
###