CLERGY, GSU JOIN TO IMPROVE OUACHITA PARISH
Grambling State students will gain valuable professional experiences as they help the community flood recovery
By GSU Media Bureau
Grambling State University and clergy from Monroe, Louisiana, have formed a joint partnership to help train GSU students become strong career professionals as they assist with the long term flood recovery in Ouachita Parish.

During a Thursday (Dec. 7) morning program in the Doris Robinson Room at the Eddie G. Robinson Museum on the GSU campus, Grambling State President Rick Gallot, Monroe Mayor Jamie Mayo and a host of university and Monroe clergy joined to be a part of a big effort to help a neighboring parish recover from a devastating March 2016 flood. During a storm that month, flooding damaged 5,357 homes, 5,230 rental units and 640 commercial structures in Ouachita Parish. A number of drainage structures, pumping stations, levees and roadways were also flooded.
"Since the founding of this institution in 1901, we have placed a high priority on making our communities a better place, and providing opportunities that will allow our students to have real life, relevant, hands-on experiences," said GSU President Rick Gallot.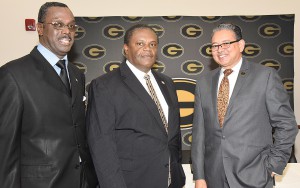 The partnership, between the university and Concerned Clergy of Monroe, GSU faculty, staff and students will assist by providing the Monroe clergy with resources to help with the identification, design and implementation of recovery projects. Those areas include economic recovery, national and cultural resources recovery, infrastructure systems recovery, housing recovery, health and social services recovery and public safety. Monroe Mayor Jamie Mayo discussed the project with area clergy and others, pulling together the people necessary to make this happen. "There's no question that any of us can do anything without collaborating with our friends around the region," he said. "When we put those resources together we can do great things."
Minister Earl Davis, a co-founder of the clergy group, said one of the most important things about the partnership is the connection to GSU's "intellectual capital" and a community-based footprint that connects the institution directly to citizens.
Earl Randall III, the U.S. Department of Housing and Urban Development housing field coordinator and field office director, and Crystal Jones-Taylor, HUD's housing team lead and faith based and neighborhood partnership liaison joined the event, as did Harold Lathon, the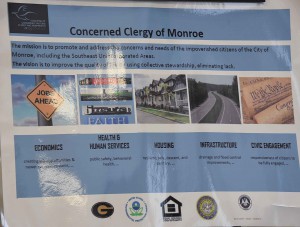 recovery coordination task force lead with the Federal Emergency Management Agency (FEMA).
Grambling State's School of Social Work will work with Concerned Clergy of Monroe to identify money to support a qualitative study looking at the impact of spirituality on disaster recover. Among other things, the school will work with GSU's Department of Criminal Justice to develop a comprehensive analysis of data reported for Monroe to extract/exclude data that is a part of the Monroe Crime Statistics Reports that is data for neighboring cities with the goal of supporting the needs of parish youth. In particular, a Youth Empowerment Coalition will be created to help parish youth be more actively engaged. Grambling State students will serve as mentors and assist with the program. Master's degree students may assist with specific educational training may work with the clergy to identify job incentive opportunities.
The university's Engineering Technology Department will identify housing needs for low-income citizens and identify federal and state funding options to support home renovations for those affected by the flood. The department will also look at infrastructure issues.
The Concerned Clergy of Monroe will work with Grambling State to coordinate and implement program elements, including making the community aware of the efforts, assisting with identifying participants, providing meeting spaces, assisting with identifying housing needs and helping to identify financial support opportunities.
"We're excited to be a part of this partnership," said Ellen D. Smiley, GSU's provost and academic affairs vice president. "It expands our service-learning program, increases grant writing opportunities, and expands research endeavors. The partnership supports plans for our faculty, staff, and students to have an even greater impact on society."
"Our departments will be behind the scenes, deep in the seams and all over this project to ensure its effectiveness, and to ensure that our undergraduate and graduate students get the most from helping others," added Stacey Duhon, dean of the College of Arts and Sciences and whose departments will be most involved with the project. "This is the type of academic experience that can only make them stronger and better citizen scholars."
###