GRAMBLING STATE HOSTS MLK DAY PROGRAM
University radio station features King special, president serves as grand
marshal in Shreveport parade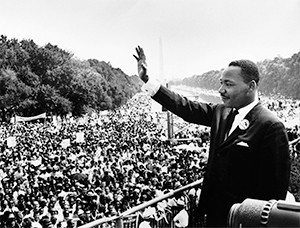 GSU Media Bureau
Grambling State University and the Favrot Student Union Board will host an on-campus program on Monday (Jan. 15) in honor of the late Dr. Martin Luther King Jr. The program, entitled "Keep the Dream Alive," is a celebration of the life and lasting impact King had on civil rights and humanity in America and the world.
A candlelight prayer vigil and walk will start at 5:30 p.m. in front of the school's Eddie the Fighting Tiger sculpture. Students and community representatives will walk to the Black and Gold Room in the Favrot Student Union for a program featuring Pastor Maurice White of Zion Traveler Baptist Church in Ruston, Louisiana.
"Our annual MLK prayer walk and program has added significance this year because 2018 is the 50th anniversary of Dr. King's death. It's important that our students know our history and this is something we do with them and our community to keep King's dreams alive. We encourage everyone in the Grambling, Ruston and Lincoln Parish communities to join us," said David Ponton, GSU's vice president for student affairs.
"As students, we know that we have an obligation to work hard and continue to make the world a better place for the generations to come just as Dr. King did for us. His eloquent words live on, inspiring others who see injustices and seek to change them." GSU Student Government Association President Adarian Williams said.
KGRM, the campus radio station, will air "King: From Atlanta to the Mountaintop," a three-hour special radio event featuring Lee Bailey, radio executive, journalist and co-creator of RadioScope: the Entertainment Magazine of the Air, a syndicated radio show, and Bailey Broadcasting Services (BBS). The program revisits some of the history made by King in the years he led civil rights movements across the nation before his assassination 50 years ago. Local listeners can tune in at 91.5 FM. Others can tune in online at http://radio.securenetsystems.net/v5/KGRM.
"This is a wonderful program, full of rich history and lots of things some of us may not remember," said KGRM General Manager Joyce Evans. "It's a good way to honor and remember King, and a great way to start your MLK day Monday."
Also on Monday, GSU President Rick Gallot will be the grand marshal of the Krewe of Harambee Martin Luther King Jr. Day Mardi Gras Parade, Shreveport's earliest major Mardi Gras parade. The family-friendly parade celebrates King and adds Mardi Gras flavor with floats, marching bands and more. It starts at 1 p.m. at the Municipal Auditorium on Elvis Presley Avenue, proceeding on Milam Street then Edwards and Texas through downtown Shreveport, ending at Elvis Presley Avenue.
For more information about the campus observance, contact the university's student affairs office at 318-274-6115.