GRAMBLINITES WIN MLK AWARDS FOR EDUCATION, PUBLIC SERVICE
By WILL SUTTON/GSU Media Bureau
Christella Dawson was living in alleys at one point in her life, but she refused to let that deter her from seeking success. When she arrived at Grambling State University she had no idea what she wanted to do.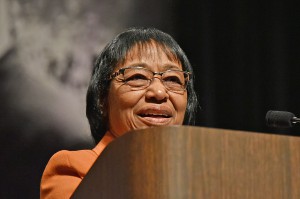 "I had no idea what career I wanted," recalled Dawson, a 1968 GSU graduate. "Mr. Jay Humphreys stopped me one day after his math class and told me that I had impressed him and that I should consider majoring in mathematics. He spent the next four years guiding my college career. I watched the proud, knowledgeable professors at Grambling and wanted to imitate them. I hope I've made them proud."
Born in Birmingham, Alabama, she graduated from Carroll High School in Monroe, Louisiana, and went on to earn a mathematics degree from Grambling State University.
In 1969, a federal court-mandated integration order sent her to Neville High School, where she taught for 22 years before moving into an assistant principal role and then, in 2016, to the top administrative job, principal.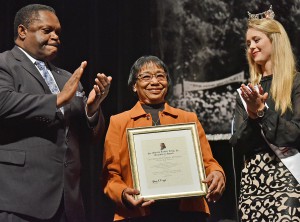 As she was honored with the 2018 Dr. Martin Luther King Jr. Trailblazer Award by Monroe Mayor Jamie Mayo, Dawson told the hundreds of school children in Howard Theatre at the Monroe Civic Center that she's proof they can do anything they choose to do. Dawson meant it. She may be small in stature, but she's been an active karateka for 17 years. She holds local, regional and national titles as a second-degree black belt in Shotokan Karate.
"You can do anything you set your mind to do," Dawson, 73, said to thunderous applause. Noting that it's important to have the support of family and others who have their best interest at heart, even when some doubt them, Dawson asked her mentor to stand, acknowledging that she wouldn't have succeeded without her. "I will never forget this moment," she said.
Dawson was recognized for as an "individual who has demonstrated a lifelong commitment to Dr. King's dream of equality and achievement for all," someone who "goes far above and beyond the call of duty to assist, educate, help or inspire others."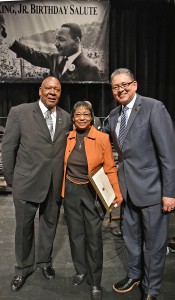 Dawson made a point to acknowledge Johnnie G. Rodgers, her longtime mentor. "I met her when I was a child attending Zion Traveler Baptist Church of Monroe. Her husband was the pastor," Dawson said later. "When I entered Carroll High School, she was my English teacher and encouraged me from that point until this very day. When you meet her, you walk away feeling better about yourself than when you walked up to her. She will always find something positive to say to make you feel good about yourself."
It was a big day for Gramblinites as three of the Monroe MLK award winners are graduates of Grambling State University. In addition to Dawson, Darryl Triplett, a talented art instructor in the Monroe School System, was presented the Morris Henry Carroll Education Award and John Ross was presented the W.L. "Jack" Howard Public Service Award. GSU President Rick Gallot was the keynote speaker at the event.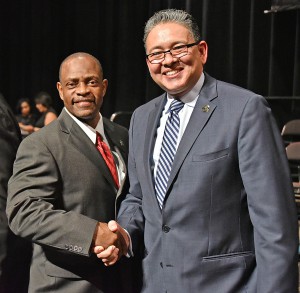 Triplett, a New Orleans native, was an All-American football player at Highland Community College in Kansas before playing his final two collegiate years at GSU under Coach Eddie Robinson. It was while in college that Triplett refined his appreciation for and his skill with art while earning an art education degree and a master's in art and humanities. He has created widely recognized paintings, including the 20th Bayou Classic football game program, an image for the 2003 LSU National Championship Football Team and a piece celebrating the New Orleans Saints as Super Bowl champions. He was honored for his work in Monroe schools for 28 years, and evidence of his popularity and impact was shown as scores of students in the audience cheered when he was presented the award.
"Grambling State University prepared me well as an educator," Triplett said after the program. " Professors were very interested in the students' well being as well as their educational experiences. It is good to be recognized by your peers. The reward was a long time coming and very much appreciated. I am 55 years old and looking forward to serving for a few more years."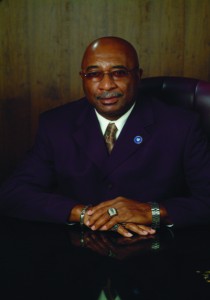 John Ross, who earned an undergraduate degree in education at GSU, was honored with the W.L. "Jack" Howard Public Service Award for his 32 years encouraging and motivating students during his education career, including 12 years as principal at Berg Jones Elementary School in Monroe. Ross developed a reputation for doing whatever it took to help students achieve success. He would put on costumes, do stunts, climb trees and get on top of buildings if it meant students were excited about learning and meeting goals. Ross wore multiple hats, including a stint as the interim director of the city's parks and recreation department and director of community affairs in addition to being pastor of Good Hope Baptist Church.
###