Grambling State University Lunch and Learn Draws Business Leaders
First National, Coca-Cola, and Others Strategize to Invest in Grambling State
March 6, 2018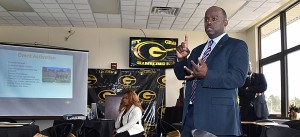 Business giants in North Louisiana's economy, including Coca-Cola and First National Bank, are actively strategizing ways to leverage their more than billion dollars in value to support  Grambling State University.
"We've been a sponsor for many years and have always gotten a lot out of working with Grambling State," said Brian Smith, a Senior Vice President at First National Bank. "First National Bank is excited to be a part of the team that supports Grambling's growing vision.
Smith and 13 other executives from companies that include Primary Health Services, Coca-Cola, and State Farm joined University leaders last Thursday to explore strategies and discuss the future of Grambling State.
"We know our President's big vision is going to require big collaboration," said Marc Newman, Vice President of Advancement at GSU. "That means we have to connect with partners who can help turn that vision into a sustainable reality."
"We have a marketable product – in 2017 over 200,000 guest and fans visited campus. They are consumers who will support our local business partners. Grambling State University is truly a worthwhile investment."
Newman and business leaders met as a part of GSU's second annual Lunch and Learn which, in the past two years, has helped coral support for scholarships, campus improvements, and major athletics and facility projects, including recent football stadium upgrades.
This year's lunch and learn connected 14 partners representing 11 companies whose business range from apparel sales and insurance to healthcare and hospitality. This year's attending companies included:
Ruston Convention Visitors Bureau
Primary Health Services Center (PHSC)
Collegiate Shop
First National Bank
Coca-Cola
State Farm
Reali-Tees
I Love my HBCU
Fairfield Inn
Princeton Place Skilled Nursing & Rehab
Tommy's Tees
"The economic impact of Grambling is immense and growing. It's showing in the number of companies that show up and support us," said Newman.
For more information on sponsoring and supporting Grambling State University, please contact advancementservices@gram.edu.