Grambling State & City Town Hall Discuss Grambling's Future
Historic Unity Town Hall on Monday connects University & City of Grambling leaders 
GRAMBLING, LA — March 13, 2018 – President Rick Gallot and Mayor Edward R. Jones will host students, faculty, and community members at a Monday town hall to discuss the future of the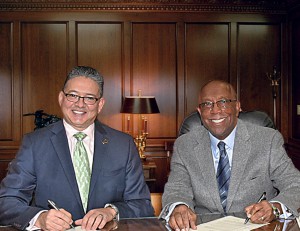 collaboration between Grambling State University and the City of Grambling.
Billed as a "Unity in the Community" forum, the event is sponsored by the GSU Department of Mass Communication and the Greater Grambling Chamber of Commerce.
"We know that community partnership is a large part of what makes any University work. At Grambling we are fortunate enough to have a President and Mayor who have an open dialogue that fuels our historic relationship," said Dr. Robbie Morganfield, event co-organizer and head of the Department of Mass Communication. "I'm excited that we get to publicly host and invite community members into what will be one of many conversations."
Community residents, media, and the university campus community are invited to attend the forum.
Event Details
Town Hall: "Unity in the Community" 
Fredrick C. Hobdy Assembly Center, 100 North Stadium Drive, Grambling State University on Monday, March 19, 2018, from 6 p.m. to 8 p.m.
Community members and attendees are encouraged to submit questions for the panelists about the past, present and future of the city and university.
To submit questions or for more information email mediarelations@gram.edu or contact Dr. Robbie Morganfield, head of GSU's Mass Communication Department at 318.274.2189 or Dr. Reginald Owens, president of the Chamber at 318.243.4337.