Grambling Women Up: Criminal Justice Graduate Makes Dallas History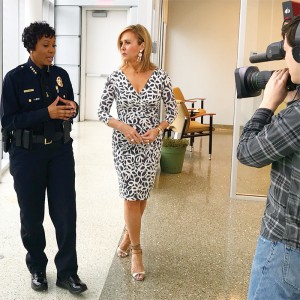 GRAMBLING, La. (March 16, 2018) – As part of its Women's History Month, Grambling State University celebrates a number of phenomenal women from its community who have helped women across the nation and the world rise. Thank you to Renee Hall for helping lift Grambling Women Up.  
Renee Hall, an alumna of Grambling State's Criminal Justice program and the first female police chief in Dallas, Texas, has a long record of helping grow her industry and women's achievement. 
Hall, who previously served as deputy chief of the Detroit Police Department, was hired as chief in September 2017. But, that's not where her contributions started. 
Hall received a bachelor's degree in criminal justice from Grambling State in 1994 and master's degrees in security administration and intelligence analysis from the University of Detroit Mercy. A graduate of the FBI National Academy, she also completed the Police Executive Leadership Institute and is a member of the International Association of Chiefs of Police.  
She was recently appointed special assistant to the president of the National Organization of Black Law Enforcement Executives. In March 2015, she was selected as one of Michigan Chronicle's Women of Excellence.  She has also been honored as "Woman of the Decade" by the Native Detroiter Magazine. She is a member of Delta Sigma Theta Sorority, Inc.
As Deputy Chief in Detroit, Hall developed and implemented comprehensive community policing and mentor programs, forged partnerships and established trust within minority communities while also building strong relationships between officers of all ranks and community stakeholders. Under her leadership, the City of Detroit experienced a 40-year low in homicides and double-digit reductions in violent crime for three consecutive years.
Her responsibilities also included oversight of police services for six precincts and 720 sworn and non-sworn personnel. 
In Dallas, she has already completed a departmental reorganization to trim administrative staff, and is focused on neighborhood policing, recruiting new officers and community service. 
"Ms. Hall's appointment as the chief of police for the city of Dallas is an achievement that reaches beyond the personal success of one person," GSU Criminal Justice professor Dr. Karletta White said.  "Her achievement and future efforts will definitely have a lasting impact on the current and future generations of little girls and young women who would have never imagined that such a goal could be reached, and be comfortable accepting such a tremendous responsibility. " 
Thank you, Chief Hall, for helping raise "Grambling Women Up." 
To share a story of another Grambling State woman achiever, follow and share #GramblingWomenUp on Facebook or Twitter.