Grambling Women Up: Courageous Local Civil Rights Legends Share
By Kathy Spurlock and Jasmine Harris
As part of its Women's History Month observance, Grambling State University celebrates a number of phenomenal women who have helped women across the nation and the world rise. Thank you to Louisiana's Women Warriors for helping lift Grambling Women Up.
"Women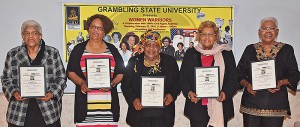 Warriors: A Conversation" was a program presented to students and the community to address a much-neglected area of humanities study: the activism of women in rural communities during the Civil Rights era of the 1960s.
During the program, several women shared their experiences. Mrs. Berta Bradford Robinson, a native of Jonesboro, Louisiana, along with James Potts, is noted for desegregating Louisiana Tech University. Robinson lost her church to a fire following the news of their integration at the university. "First of all, the headlines came out before the church was burned. The headlines were Bradford and Potts integrate Tech and immediately after that headlines showed church was burned," she told the group. Robinson spoke to the guilt her counterpart felt toward enrolling into the university, blaming himself for the destruction caused to the church.
Mrs. Bessie Dill Bradley recounted the frightening night she was sought by Ku Klux Klan members while sitting in jail. Bradley received a feeling that she explained as a divine calling for her to hide herself. The men circled the building looking for a victim and eventually left when they found no one.
Bradley, with tears welling up in her eyes, began to sing a hymn to the crowd as a show of gratitude.
"It was a special moment in the room, it felt like listening to one of your grandparents telling you about their upbringing and the trials and tribulations they went through" said Derrick Johnson, a Biology major from Atlanta, Georgia.
Mrs. Mabel Houston detailed her experience at Jackson High School, where she was only able to stay for four months. The white students treated her as an oddity. Her bullying came in the form of children separating themselves from her. While demonstrating with 12 other students against the school, they were arrested and thrown in a garbage truck to be hauled off to jail. She was only 14 at the time. "They didn't hurt us, they just put us in jail and fed us three meals a day for a week," Houston said.
The program was designed to open an important conversation about the women who were not written into history, and to inspire the audience to seek the unrecognized heroines in their own communities and to document their stories before they are lost to history.
These women highlighted were vital parts in the movement toward equality in their communities. Thank you, Women Warriors, for helping raise "Grambling Women Up."
To share a story of another Grambling State woman achiever, follow and share #GramblingWomenUp on Facebook or Twitter.