Your National Alumni Convention "Trip Advisor" for July 12 –15, Register Now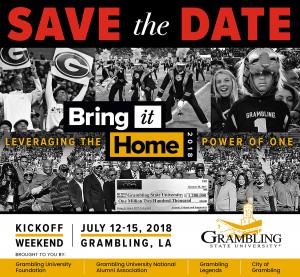 Don't miss out! Scroll for tips to make your Grambling University National Alumni Convention planning easy.
Grambling Hotspots – Places to Know:
New! Legends Square Shopping Center
Your last-minute shopping needs don't require a trip to Ruston. The new Legends Square features Legends Market (grocery store), Dollar Tree and Hibbett Sports, as well as the Legends Walk of Fame park where you can view a list of Grambling's greats. Check out the plaza conveniently located right off Exit 81 on the RWE Jones Drive / Hwy 149 one mile north of GSU's campus.
Eddie G. Robinson Museum – Tours Available! Join us on a tour to learn about the legend, Eddie G. Robinson, GSU Athletics, and their outstanding contributions to the state of Louisiana, the nation, the world, and the game of football.
McCall Dining Center – GSU's historic campus "café" has a new look. Stop by for snacks, coffee, or even a meal while you check out the additions of "Grambling spirited" updates.
GSU Official Bookstore : While you're visiting campus, don't forget to swing by the Official GSU Bookstore and update your wardrobe with some new GSU gear!
Grambling Village: When was the last time you visited the village? Stop by to check out visit iconic Grambling staples and a few new additions where you can eat, shop, and connect.
While you are on campus visiting for this year's National Alumni Convention, don't miss the opportunity to experience the growth on campus and in the Community.