Grambling State Sports Hall of Fame, Alumni Convention, & Fundraising Campaign Kickoff This Week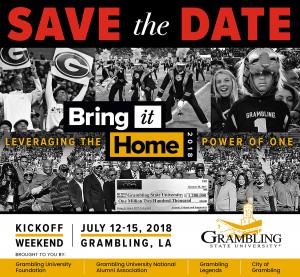 GSU Alumni, Major Donors and Athletic Legends including Doug Williams and James "Shack" Harris convene to celebrate.
GRAMBLING, LA — July 6, 2018 –This week Grambling State President Rick Gallot and City of Grambling Mayor Edward R. Jones will host alumni, major donors, and VIPs including GSU alumni and super bowl MVP Doug Williams to celebrate a series of major university events.
Event Details
Fundraiser Kick Off: Bring it Home 2018-19
Grambling State's follow-up to the $1.2 million raised in 2017-18 starts Wednesday
Wednesday, July 11 at 11 a.m. | Hobdy Assembly Center (Green Room)
Alumni Convention, Grambling University National Alumni Association
Receptions, networking events, and alumni awards banquet
Thursday, July 12 to Sunday, July 15 | GSU Campus
Grambling Legends Press Conference & Reception
Doug Williams, James "Shack" Harris, & the 2018 Inductees
Friday, July 13, 5 p.m. to 8 p.m. | Eddie G. Robinson Museum
Grambling Legends Induction Celebration with Doug Williams and Legends Class of 2018
Formal induction ceremony and celebration will include Doug Williams, James "Shack" Harris, and notable former GSU athletes
Saturday, July 14, red-carpet reception at 5:30 p.m., Frederick C. Hobdy Assembly Center
For more detailed event information or to set up media interviews, please contact mediarelations@gram.edu or (318) 274-2866.